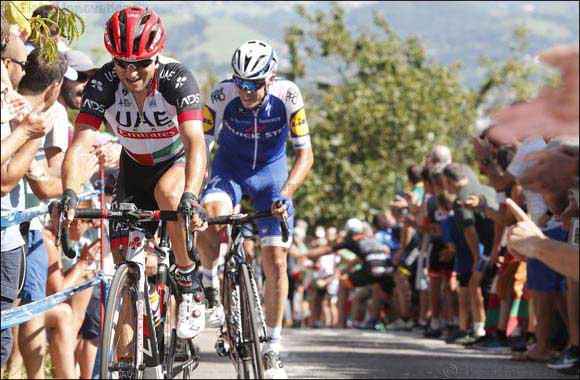 Dubai, UAE, September 6, 2017: UAE Team Emirates head to Canada with a line-up of eight riders to take part in Canada's only two UCI WorldTour races. The team, led by Italian rider Diego Ulissi, starts with the Grand Prix Cycliste de Québec on Friday 8 September before heading south west to race at the Grand Prix Cycliste de Montréal on Sunday 10 September.
Accompanying UAE Team Emirates' Ulissi on both races are; Valerio Conti, Kristijan Durasek, Vegard Stake Laengen, Marco Marcato, Simone Petilli, Edward Ravasi and Ben Swift.
Commenting on the races and line-up, UAE Team Emirates' Sports Director Marco Marzano said: "Ulissi will lead the team at the Canadian races, given his familiartiy with the two routes. With support from the team, Ulissi will focus on taking advantage of any breakaways with Laengen and Durasek. Conti can also be considered as both races suit his skills."
Commenting on his upcoming participation, Italian rider, Diego Ulissi said: "I like both races. They usually are very well organized and they have a nostalgia about them, with the characteristics of the routes being very similar to those at the World Championships. The race in Montreal is my favourite out of the two because it is more challenging and is more suited to my skills. Last year in Montreal I managed to make it to the podium and I am hoping this year I can top that result. I'm quite optimistic and feel really good about my form."
Both single day races are part of the UCI's WorldTour calendar and unlike most classics are circuit races. The Grand Prix Cycliste de Québec totals 200km while the Grand Prix Cycliste de Montréal totals 205.7km. Both races are the final opportunity for riders to get some competitive road cycling under their belts ahead of the World Cycling Championships taking place in Bergen, Norway between 17 – 24 September.
Elsewhere in Europe, UAE Team Emirates is racing at the third and final Grand Tour of the season - the Vuelta a España until 10 September.