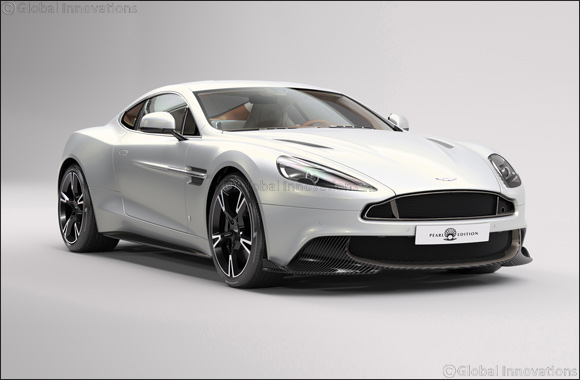 Dubai, UAE, September 5, 2017: The Aston Martin Vanquish S Pearl Edition is a bold showcase of the bespoke personalistion service offered by Q by Aston Martin. The Vanquish S Pearl Edition will be limited to just 15 examples, available exclusively in the Middle East which has a long association with the pearl industry. The fascinating cultural history of this spectacularly rare and elegant natural material has been at the heart of the region's heritage for thousands of years, capturing the imagination through mythology and legend. The Pearl Edition celebrates this.
Marek Reichman, EVP and Chief Creative Officer, who oversees the dedicated Q by Aston Martin team at the company's HQ in Gaydon, Warwickshire commented: 'The Vanquish S Pearl Edition is an extremely special car, it is a chance for us to demonstrate our skilled application of exotic materials as well as the Q by Aston Martin team's attention to detail.'
Dr Matthew Bennett, Head of Q by Aston Martin added: 'The Pearl Edition is a true representation of what Aston Martin stands for – it brings together new materials and skills with what we consider the lifeblood of every Aston Martin, design.'
The Vanquish S Pearl Edition takes the tradition, value and rarity of the pearl, with its long association with the Arabian Gulf, and uses the artistry of the Q by Aston Martin team to create a truly spectacular car. Every Aston Martin is a hand-crafted, high performance sports car, and the new Vanquish S represents the pinnacle of the model's engineering and design refinement. A sublime driving experience, thrilling dynamics and exceptional refinement are paired with the soft and natural beauty of the Arabian pearl, with its timeless allure and understated character.
Subtle but striking details abound. Most prominently, the Aston Martin wings on the front and rear of the car are inlaid with iridescent panels of delicate mother of pearl. The same material is also carefully incorporated throughout the car's sumptuous interior, including down the centre of the waterfall-style central console, on the dashboard rotary switches, sill plaque and sterling silver fender badge. The central console buckle badge has mother of pearl carefully inlaid into an area measuring just 27 mm2 area and two millimetres deep, highlighting the detail on the unique Pearl Edition logo. Every piece of pearl in the car was carefully selected, cut, shaped and hand polished, using the same methods developed over centuries for crafting jewellery and other fine objects.
These focal points are complemented by a pale leather interior, with hides hand-selected from traditional tanneries in Ireland and the UK and perforated with a 'Snowflake' pattern. The iridescent theme is continued through to the copper tan metallic leather detailing and the pearlescent Q by Aston Martin platinum white paint finish, painstakingly applied layer by layer – just like the formation of the protective oyster shell – over the all-carbon fibre bodywork of the Vanquish S.
The Aston Martin Vanquish S Pearl Edition showcases the sheer range of technical and craftsmanship available to Q by Aston Martin customers. 'Our designers, craftspeople and engineers have incorporated one of the world's most desirable natural materials into one of the world's most desirable cars,' added Marek Reichman, 'as a result, the Pearl Edition is a true work of automotive art.'