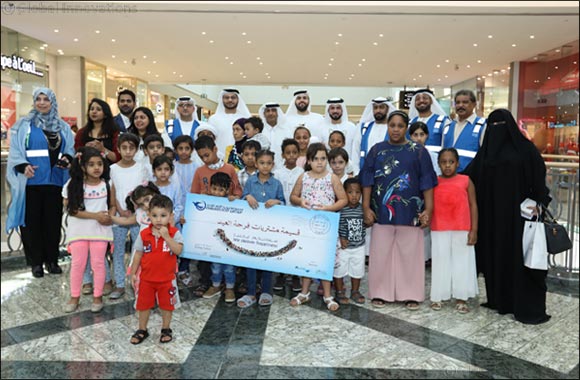 Among "Year of Giving" initiatives
Dubai, UAE, September 5, 2017: In response to His Highness Sheikh Khalifa Bin Zayed Al Nahyan, president of the UAE designating 2017 as the 'Year of Giving'. Emirates Post Group celebrated 'The joy of EId in their eyes' in cooperation with Awqaf and Minors Foundation. This initiative was held at City Centre Mirdif and was sponsored by the Abarill Group and Magic Planet.
The event was attended by a number prof officials and employees of from the Emirates Post Group together with representatives from The National Program for Happiness and Positivity.
The EPG team purchased Eid clothing for orphaned children and participated an entertainment program, competitions and fun activities in the Magic Planet Games area, designed to bring joy to the children.
Mr Obaid Al Qatami, Acting Chief Commercial Officer of Emirates Post Group said 'This is a fabulous initiative to engage with orphans and children that are less fortunate than most of us and enjoy spending fun time with them.
Al Qatami praised all the volunteers and sponsors for 'their tremendous support to this event that was part of the Year of Giving initiatives and an excellent way of participating with the UAE strategy towards serving and interacting with the community'. The Joy of Eid.