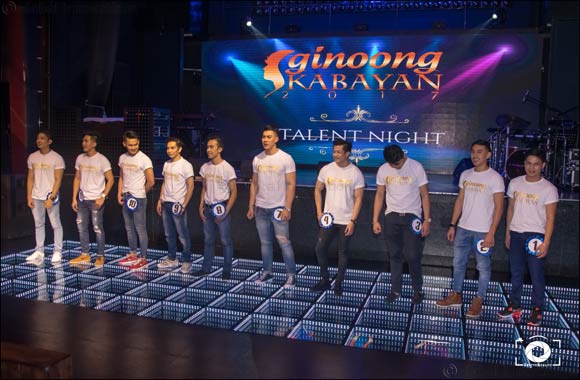 DUBAI - Ten (10) gentlemen are all set for the Ginoong Kabayan 'Grand Gala Night' and finals on September 2, 2017 at Marco Polo Hotel.
Upline Media brings back one of Dubai's illustrious pageant brands for Filipino men, Ginoong Kabayan. The stint aims to uplift the image of Pinoy gentlemen, exuding not only good-looks, physique and charm, but also exemplary men with wit and emulate Filipino values.
Now on its second season, Ginoong Kabayan had carefully screened candidates from the different regions of the UAE. Tenths of hopefuls gathered during the screening held at two consecutive Fridays at Palayok Restaurant - Dubai last June 16 and 23.
Twelve shortlisted candidates strut the runway featuring Barong collection by budding designer Erick Talledo held at Arcadia, Abu Dhabi last July 8. The candidates later on dazzled audience bringing their creativity in their fantasy-inspired 'Creative Swimwear' held at Star Metro Hotel last July 22. Swimwear trunks were also provided by Talledo.
Now down to ten, the candidates displayed their talents and skills in singing, dancing, oration and even bar flaring during the 'Talent Night' held of Boracay, Asiana Hotel last August 19.
The Finale
The grand finals will be hosted by Miss Earth 2008, Carla Henry alongside Dubai's sought-after Pinoy hosts and Radio Jocks John Luna and Charlene Agoncillo of Pinas Music Zone.
Mr. Universe - Philippines 2014, Mark Del Rosario will render a crash course training to candidates prior to the Grand Gala Night. Del Rosario will also take part in the event as one of the pageant's judges.
The last ten (10) finalists will enthrall again audience as they will flaunt their unique and colorful attires in the Parade of National Costume, and other categories like Casual Wear and Barong on the gala night itself. They are:
Candidate No. 1 - Ramil Cavite
Candidate No. 2 - Eduard Matro
Candidate No. 3 - Rian Saladana
Candidate No. 4 - Alhdrick Arvesu
Candidate No. 7 - Michael Climaco
Candidate No. 8 - Johnlerie Serrano
Candidate No. 9 - Jomar Endriga Jorlano
Candidate No. 10 - John Rey Torres
Candidate No. 11 - Roger Poscalbo
Candidate No. 12 - Robert Paulo Matibag
*Candidates 5 and 6 were previously disqualified from the competition
During the finale, special awards will be given for GK2017 Talent Award, Mr. Davis and G. Black seed, Best in Swimwear Trunks, Best in Casual, Best in Creative Swimwear, Best in Runway, Face of GK2017, Popularity Award, National Costume, Fitness & Shape Award, Mister Congeniality, and Best in Barong.
Cash and gifts await this year's Ginoong Kabayan and its runner-ups. Grand Winner of Ginoong Kabayan will also represent the country in the prestigious Mister Philippines to be held in Manila next year.