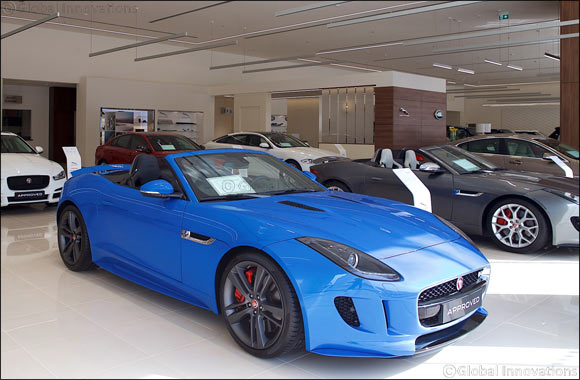 In partnership with Al Tayer Motors, the 55,000 sqm facility is the first of its kind in the GCC.
Jaguar Land Rover looks to expand used-car services across MENA
Jaguar Land Rover APPROVED customers benefit from a full live view on current stock available at any period of time.
Dubai, United Arab Emirates, August 29, 2017: Jaguar Land Rover has launched its first APPROVED used-car facility in Dubai. The state-of-the-art showroom seeks to enhance and improve a customer's experience when purchasing an APPROVED pre-owned vehicle.
The facility was opened in partnership with Al Tayer Motors, Jaguar Land Rover's exclusive retailer in the UAE, and is its biggest standalone, used-car showroom in the United Arab Emirates. The eco-friendly structure is fitted with a 660KW solar rooftop generating system that provides power to the entire facility and can potentially give back to the grid system.
"This exciting facility is the first of its kind in the Middle East and North Africa, and demonstrates Al Tayer Motors and Jaguar Land Rover's commitment to driving a premium pre-owned customer experience for our vehicles," said Lee Ashlin, Regional Pre-Owned Manager, Jaguar Land Rover MENA.
"This announcement serves as a benchmark, not only for this region, but for our business globally. It demonstrates and supports our ambition to provide customers with the best possible experience when purchasing Jaguar or Land Rover products and services, whether that is a new car or one of our APPROVED Pre-Owned vehicles," he added.
In line with Jaguar Land Rover's beautiful product design, the showroom has been built to its new global retail design architecture, which debuted last year. The concept offers a dual brand retail environment that reflects the modern, striking design of the premium Jaguar Land Rover vehicles that it is home to. All in an effort to ensure that the experience of purchasing an APPROVED Pre Owned vehicle is one that the customer will love for life.
Jaguar Land Rover's latest vehicles are displayed in the showroom, as the brand looks to capitalise on the growing used-car market in the UAE. Added comfort and detail has been applied to the APPROVED Pre-Owned showroom, in order to create a complete new-car buying experience, in this stand alone facility.
"This approach demonstrates our commitment and loyalty to every single one of our customers," Ashlin said. "Thanks to this new facility, Al Tayer Motors and the Jaguar Land Rover brand will now be able to deliver a more premium customer experience and buying process that customers will remember. This includes dedicated handover bays, where customers take delivery of their newly purchased cars in a personalised area of the showroom," he continued.
The facility is a regional first, and Jaguar Land Rover has already unveiled plans for further expansion across the MENA region in the near future.
The facility was officially inaugurated in July 2017, and is located near the Dubai Police General Department of Traffic, in the Al Barsha district, Dubai.