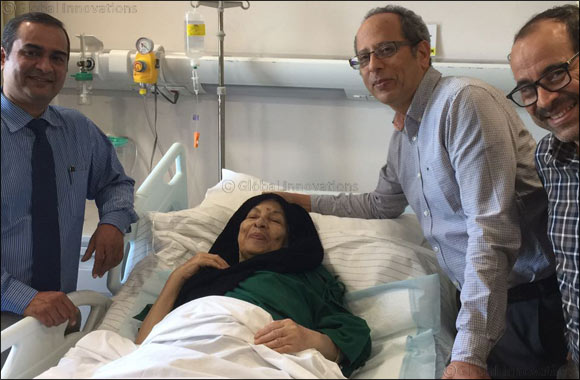 UK doctors endorse world-class standard of multi-specialty medical care by Aster Hospital Mankhool
An 81-year old female patient was suffering from sepsis due to obstruction (stones) in her bile duct and needed immediate intervention
The patient was suffering from multiple ailments simultaneously (comorbidities) and had suffered a stroke 6 months earlier, resulting in a high-risk situation
After a successful ERCP procedure by Aster Hospital specialists, the patient recovered almost immediately, despite the odds
Dubai, United Arab Emirates, 29 August, 2017: An 81-year old female patient, suffering from multiple illnesses, was successfully treated at Aster Hospital, Mankhool through a multi-pronged medical approach. The patient had blockage of the bile ducts and abnormal retention of bile in the liver caused by gallstones; she also had infection (cholangitis) leading to sepsis and was in need of immediate medical intervention in order to survive. Dr. Amal Upadhyay, Consultant Gastroenterologist at Aster Hospital successfully performed an ERCP procedure to clear the bile ducts and the patient recovered and resumed normal activities within a day after the procedure.
The elderly patient was transferred to Aster Hospital's Intensive Care Unit from another healthcare facility in a state of shock, complicated by poor kidney function. Immediate examination by multiple specialists - an intensivist, a nephrologist, a cardiologist and an anesthesiologist determined that it was necessary to conduct ERCP to treat the cholangitis, else the patient's condition could prove fatal. However, due to the multiple complications including 2 faulty heart valves, rare but severe hypertension in the lungs and an irregular heartbeat, the risks associated with sedating the patient and conducting ERCP was high. In addition to the above, the patient was on blood thinning medications. These medications could potentially increase the risk of hemorrhage during ERCP, however, these drugs could not be stopped suddenly because of a very high risk of developing another stroke. All these considerations made this case very challenging.
Commenting on the case, Dr. Amal Upadhyay, Consultant Gastroenterologist at Aster Hospital said: "It was a complicated case and hence ERCP which is usually a routine procedure proved to be quite challenging. But with the support of the expert anesthetist, intensivist, nephrologist and cardiologist, we were successful. We removed the stones and placed a stent in the bile duct."
The patient's sons are doctors in the UK and were impressed with the level of care their mother received at Aster Hospital, Mankhool. Dr. Mukhtasar Abdul Aziz, a Consultant Pulmonologist in the UK testified to the case, "She received care that was second to none. I can confidently say that Aster Hospital provides international standard care. Considering the pre-existing conditions my mother suffered from, nobody was willing to perform the procedure, given the associated risks, but Dr. Amal was very competent and confident in himself and his team", said Dr. Aziz.
The patient recovered almost immediately after the surgery and was discharged within 24 hours and advised physiotherapy.
ERCP (Endoscopic Retrograde Cholangio-Pancreatography) uses an endoscope to intervene in the bile duct and pancreas to remove bile duct stones and to place a plastic drainage tube (stent) to alleviate the blockage. Symptoms due to tumors in bile ducts and pancreas can also be alleviated with ERCP.