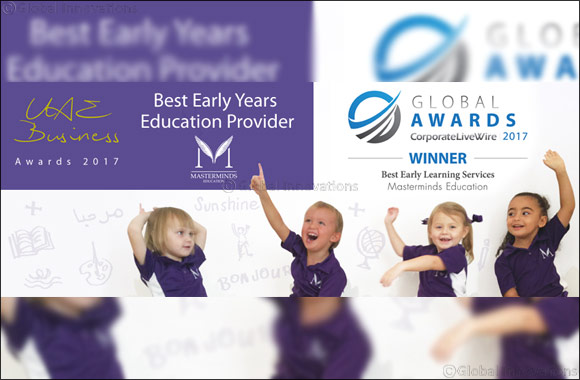 Aligning with the country's vision of building a ¬robust knowledge and innovation driven economy, Masterminds Education wins a Global Award
Dubai, August 28th 2017: Education is a fundamental element for the development of a nation and the best investment in its youth. For that reason, the UAE Vision 2021 National Agenda emphasizes the development of a first-rate education system, which will require a complete transformation of the current education system and teaching methods. As such, the Ministry of Education's 10-year development strategy 2010-20 aims at providing students a high-quality curriculum and excellent teaching, improved student life, and high-quality education as well as promoting the national identity and confirming administrative effectiveness.
Aligning with the country's vision of building a ¬robust knowledge and innovation driven economy, Masterminds Education has received a Global Award for 'Best Early Learning Services' for its one-of-a-kind Nursery & Kindergarten offering. The award, which recognizes innovation and excellence, is based on a global voting panel of over 100,000 experts, corporate professionals, and individuals. The educational institution has won several awards in the past including UAE's Best Early Years Education Provider.
Masterminds Nursery & Kindergarten, offers enrichment programs that integrate a mother's traditional wisdom with 60 years of leading-edge research in child development to create intellectual, physical and social excellence, in children age eighteen months to six years. The establishment is the only one of its kind in the Middle East region to offer its pioneering learning methodology that both nurtures and unveils the genius within every child. The Masterminds programs include English, French, and Arabic language immersion, learning to play the violin, gymnastics and swimming, as well as enrichment programs that will ensure all children can read fluently, do maths and have exceptional knowledge, physical and social awareness, by the age of six. These have been proven to be the building blocks of a strong, well-rounded childhood – and beyond, into a successful adult life.
"UAE today is home to a number of well-established schools, and has championed the education system due to the focus of the country's leaders on high-quality education in line with vision 2021. While the UAE Government's efforts to undertake significant reforms in the education sector are fundamental to its ambition for an economic framework driven by creativity, knowledge, and innovation, we at Masterminds Education aim to support this commitment of the Government by integrating leading edge global innovation into our curriculum," said Tania Siddiqi, Director of Masterminds Education.
"Masterminds Education offers quality education with well-trained faculty members, state-of-the-art facilities and learning methods that are personalized to the needs of every student. While our students are trained with exciting and all-encompassing educational activities, we've had instances where parents who have moved out of Dubai have returned back to the emirate just to continue schooling with us. This is clear proof of the institution's popularity among a wide range of local, regional and international learners. Instances such as these not only make us a destination of choice and one of the world's exceptional educational providers, but also boost our morale to continuously enhance and improve our services," added Tania Siddiqi.
Education reforms as adapted by Masterminds Education are certainly essential if we are to equip the youth with a skill set that will help them jump-start their careers and be competitive. In this regard, education providers and other stakeholders have an important role to play to ensure the young are geared up for the real world in the 21st century.