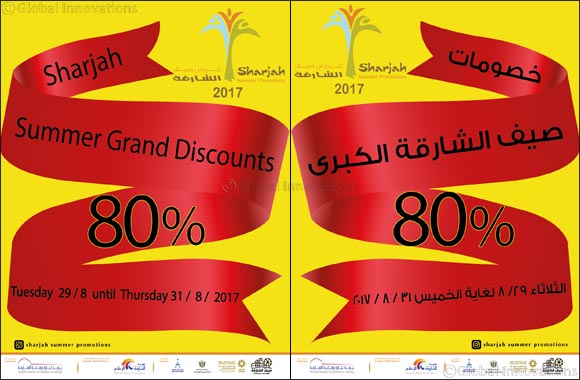 Sharjah, August 27, 2017: Sharjah Chamber of Commerce and Industry has announced its Sharjah Summer Grand Discounts campaign,which is scheduled to be launched this Tuesday in the Emirate. SCCI is conducting the campaign for the first time as part of the Sharjah Summer Offers activities. The campaign includes unprecedented discounts of up to 80% on top brands and various products and goods.
All stores in Sharjah's malls and shopping centers will take part in the campaign, which will continue for three consecutive days, concluding activities at night on Thursday August 31st. The campaign also includes a number of valuable awards such as cars, unique offers, and valuable coupons.
Ibrahim Rashed Al Jarwan, Director of the Department of Economic Relations and Marketing at the SCCI, said that Sharjah Summer Grand Discounts is a new initiative added to the activities of Sharjah Summer Offers which is considered to be the Chamber's most important annual tourist event, held in cooperation with Sharjah Summer Campaign organized by the Sharjah Tourism and Commerce Development Authority (SCTDA).
Al Jarwan added, the campaign realizes the slogan of Sharjah Summer Offers which is 'Shop with Best Discounts and Valuable Offers,' and is done through more than 1,000 retail shops that were keen on participating in these offers.
Hanaa Hamoud Al Suwaidi, Head of the Festival and Exhibitions Department at SCCI, said that Sharjah Summer Offers has seen a growing demand from shop owners and shopping centers in terms of participating with the Sharjah Summer Grand Discounts campaign organized by the Chamber for the first time. She also stated, that this campaign was met with the approval of a wide section of the Sharjah business community, and that commercial activity will gain more momentum and luster in the final days of Sharjah Summer Offers, which will be concluded on September 9th.
Several shopping centers in Sharjah have announced enticing prizes that will be drawn at the end of the 2017 Sharjah Summer Offers season. Sharjah City Center has provided a 2017 Toyota Fortuner as a prize for the big draw that will be held at the end of the season, while Sahara Center announced it will give away a Mercedes S500 Cabriolet as well as a full year's rent, school tuition, electricity and communications bills and fuel for a total value of AED 130,000. Mega Mall will also give away a Lexus LX 570 and coupons valued at AED 15,000.