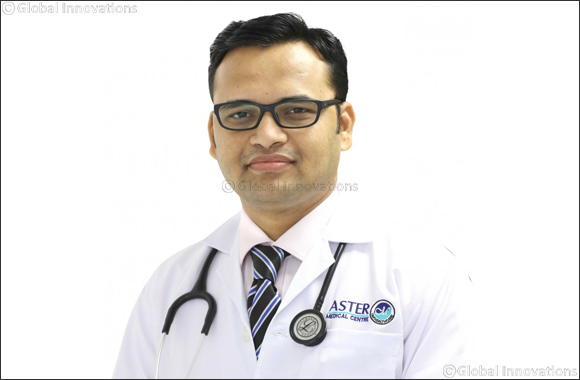 Article by Dr. Vishal Pawar, Specialist Neurologist at Aster Specialty Clinic, International City
Do you get strange sensations in your legs sometimes or the urge to kick or move your legs at night which wake you up or cause disturbance in sleep? Do you feel uncomfortable or get a crawly feeling in your legs that causes you to move your legs to relieve the sensation?
You could be suffering from a neurological disorder called 'Restless legs syndrome' or in short RLS. RLS is a neurological disorder characterized by an irresistible urge to move the legs during periods of inactivity, during sleep and wakefulness. This condition generally occurs in the legs and very rarely is caused in the arms.
Primary RLS is the most commonly found type of RLS and it is called so because no definite cause is found in many cases. A recently conducted study at Johns Hopkins and Pennsylvania State Colleges have found evidence for iron deficiency as a cause for primary RLS. The condition can also be genetic and caused in an individual because it runs in the family. This condition is also commonly associated with migraine.
Secondary RLS is caused because of an underling condition like diabetes, kidney conditions and multiple sclerosis. This condition can also develop if an individual has 'Iron deficiency anemia', in which there is too little iron in the blood. Pregnancy can also cause the condition.
Symptoms of RLS
People with RLS get an uncomfortable urge to move their legs when they are at rest. They describe the feeling as crawling, creeping, pulling, or itching. The feeling is deep in the legs and not on the skin, usually below the knees. These symptoms usually get worse as the day moves on, and are worst at night. People can make the feeling go away temporarily if they kick or move their legs. Some people with RLS find that their legs move on their own while they are asleep.
The symptoms;
include involuntary movement of legs when asleep
occur when you are at rest
go away if you move your legs on purpose
are worst at night
Together, the symptoms of RLS can make it hard to get a good night's sleep. People with the condition often feel tired during the day.
Your doctor will be able to diagnose the condition by asking you about your symptoms and doing an exam. The doctor may also send you for blood tests to decide the cause of RLS like hemoglobin, sugar, urea etc. He may further order a 'sleep study,' to confirm diagnosis. A sleep test requires you to spend the night in a lab where you will be monitored by different machines that monitor your movements, heart rate, breathing, and other body functions. Although it may not be very necessary as your specialist may be able to assess your condition by assessing the pattern and severity of your symptoms.
Treatment for RLS depends on the kind of symptoms you experience and its severity. Primary RLS that isn't linked to any underlying condition can be managed with lifestyle alterations. A few tips to improve the condition without professional help are;
Do activities that keep your mind alert during the day, such as crossword puzzles
Get regular moderate exercise
Have your legs massaged
Apply heat to your legs with heating pads or by taking a warm bath
Avoid taking medicines that can make RLS worse – including antihistamines, some antidepressants
Some people with RLS do not need medicine for it because they have mild symptoms that don't bother them very often. Consult a specialist in case of disturbing symptoms who would suggest the necessary medications based on the diagnosis. In people with RLS who have underlying kidney conditions like kidney failure, the condition might improve with hemodialysis.
During pregnancy it is always recommended to consult a specialist who will be able to prescribe you suitable medications for relief. It is not advisable to self-medicate yourself during pregnancy. Also the condition generally gets better towards the end of pregnancy.
Ensure to consult with your doctor if your condition bothers you, or if it keeps you from getting a good night's sleep.
Reference : Uptodate 2017, Patient education: Restless legs syndrome (Willis-Ekbom disease) (The Basics)