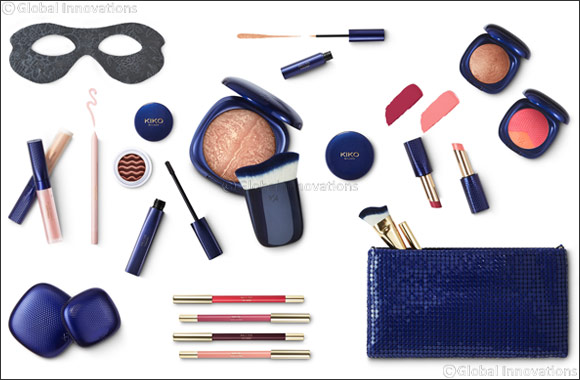 TIME TO SEDUCTION
ENCHANTRESS VENICE
Whether romantic or dramatic, enchanted and bewitching, for centuries, Venice has been a magnificent source of inspiration for poets, artists and composers to create works of timeless beauty.
Fascinating, charming and inspiring, the amazing floating city never misses an occasion to enchant everyone.

Enter the magical Venice, the symbol of intrigue and mystery. Let her envelop you into her mist and lights, let yourself drift along her winding canals, let her seduce you with her mesmerizing demeanor.
IMMERSE INTO THE COLLECTION MOOD
SEDUCTIVE MAKE-UP COLLECTION
Today, KIKO pays homage to the fairytale city and introduces FALL COLLECTION, a rich make-up collection that captures all the essence of one of the most romantic cities in the world.
KIKO FALL COLLECTION, a titillating and elegant collection that evokes the sumptuous and grandiose splendor of the floating city. It is an invitation to opulent pleasures, breathtaking baroque architecture, all in the mood for Love and Seduction, all in the mood for Fall color.
Words are not required to embrace the beauty of sight. Immerse yourself in the magical Venice, among hundreds of masterpieces and let the enchanting atmosphere of the most romantic city of the world seduce you.
DISCOVER THE PRODUCTS
PRODUCTS THAT BRINGS TO LIFE THE ALLURING SPIRIT OF QUEEN OF THE ADRIATIC
FALL COLLECTION inflames the passion for color with an elegant touch of Italian seduction
The luxurious range features shades from demure nudes to vampy darks, romantic reds, decadent blues, striking purples, elegant nudes and dramatic darks.
FALL 2.0 FOUNDATION for a silky skin, a matte effect and a creamy texture
The creamy and ultra-sensorial foundation is ideal for all skin tones and can be moved under the fingers. The texture allows to deforms the foundation with plastic sinuosity. With a few gestures, the skin appearance is transformed: complexion is bright, skin is refined.
The buildable medium-high coverage provides an impeccable matte-luminous finish that lasts over time.
This lightweight product on the skin gives a sensation of comfort and a touch of real silk.
The outcome will be an ethereal and radiant look with a second skin effect.
A mini foundation Brush is included in the packaging. The high density of synthetic bristles and the angled tip ensure an easy and accurate application.
Price (foundation with brush): AED / QAR 119
4.2 FALL 2.0 BAKED BRONZER for a sun-kissed skin
The baked bronzer with a long history of success provides the perfect balance between color glide-on and Blendability. It is made with jojoba oil and vitamin E with protective properties The baked bronzer has a vanilla fragrance and its handy custom pack is precious and compact.
Price: AED / QAR 139
4.3 FALL 2.0 DUO BRONZER, a compact bronzer for a matte and metallic finish
It creates a perfect look in two steps, a translucent, vibrant and bright skin glow. The first powder gives the face a flawlessly ethereal and matte complexion, while the metallized bronzer finishes the look with a sophisticated and professional effect
The Duo Bronzer has a creamy texture formulated with an elixir of creamy ingredients. Its maximum blurring properties allow to minimize the imperfections. The non-oily and easy to spread the bronzer is ideal for sculpting the facial features. The custom pack is elegant, handy and compact.
Price: AED / QAR 95
4.4 FALL 2.0 DUO BLUSH, a compact blush for a matte finish
The compact and creamy Duo Blush creates a vibrant and matte look. A liquid effect powder caresses the skin with a soft touch and a luminous pure color coverage. It is the ideal product for obtaining a natural, buildable look. The colors of the blush can be used individually or blended together.
Applied with a face brush on the high cheekbone, the blush enhances the facial structure, emphasizing its contouring. The custom pack is elegant, handy and compact.
Price: AED / QAR 79
4.5 FALL 2.0 HIGHLIGHTER, a baked highlighter for a strobing and luminous effect
The formula of the highlighter contains sophisticated and subtle pearls that confer a naturally bright glow to the complexion. It provides an ultra-fine and lightweight on the skin
Thanks to its baked texture, the powder blends extremely easily and it is silky to the touch.
The custom pack is elegant, handy and compact.
Price: AED / QAR 85
4.6 FALL 2.0 EYE BASE, for a long lasting new look effect
EYE BASE instantly camouflages tired-looking eyes. It supports the application and fixing of eyeshadow, for a long-lasting tenure of make-up (the product was tested on 20 female panelists, with an age between 18 and 60 years). The mouse texture gives a pleasant sensation of comfort. The natural color of the texture allows to naturally tint both the eyelid and dark circles for a revitalized look.
Price: AED / QAR 55
4.7 FALL 2.0 MAGNETIC EYESHADOW, for a magnetic loose powder with metallic effect.
The formula of the eyeshadow uses pearls to unify the pleasure of a velvet-touch. The pearls of the loose powder cling to the magnet on the base of the packaging and maintain a special pattern .
The intensity, richness and full-coverage of color of the eyeshadow has long-lasting formula.
This innovative loose powder gives a smooth sensation on the eyelids.
Price: AED / QAR 79
4.8 FALL 2.0 MASCARA, for voluminous and defined eyelashes with a professional application
The Mascara has a mini brush to provide maximum volume effect and definition.
The latest-generation elastomer applicator, thanks to the smaller size and angled positioning of the bristles, enables to reach every single lash, even the shortest ones at the corners of the eye.
The reservoirs in the center of the applicator pick up and distribute an extraordinary amount of product at the base of the lashes for maximum volume effect
Thanks to the elasticity of the formula, it is possible to distribute the product over the entire length of the lashes without clumping, layering the mascara until the desired effect.
Price: AED / QAR 79
4.9 FALL 2.0 EYELINER, a fluid eyeliner for a maxi precise metallic effect and intense color
The formula of the eyeliner adheres easily to the eyelid and it delivers a dramatic definition with one easy swipe. The look results gorgeous and deep thanks to the metallized colors.
The high concentration of Super-performing Pearls define the eyes with a glamorous sparkling effect.
The Liquid Eyeliner comes with an easy-to-use soft and flexible felt tip to create clean and precise lines. It guarantees a good color release and impeccable hold.
Price: AED / QAR 55
4.10 FALL 2.0 LIP STYLO, a long-lasting lipstick for a matte effect
The creamy texture with a matte finish provides a full and intense color.
The effortless application reveals color right away and has a long duration and long-lasting formula (the product was tested on 20 female panelists, with an age between 18 and 60 years).
Price: AED / QAR 59
4.11 FALL 2.0 SHINY LIP STYLO, a creamy lipstick for luminous effect
The luminous finish and ultra-thin film offer unprecedented one stroke color intensity.
The formula contains a high percentage of pure pigments in a perfectly gelled system.
The excellent adherence and perfection over time are further enhanced by an innovative resin, while the softness and the emollient effect are guaranteed. Thanks to the perfect combination of waxes, the texture is smooth and flexible to maximize comfort and wear.
Price: AED / QAR 59
4.12 FALL 2.0 LIP LINER, a maxi precise lip pencil and matte effect
The lip liner perfectly matches with the Lip Stylo and it improves its hold. While applying, it glides on and blends extremely easily.
The highly pigmented formula guarantees high adherence and comfort
Price: AED / QAR 35
4.13 FALL 2.0 METALLIC LINER, innovative liner for a metallic effect
The metallized liner defines eyes and lips' contour and play with different graphics on the face. It has a metallic finish and gel-like glide.
The high concentration of pigments ensures a rich colour pay-off.
The novelty of this product lies in the new possibility of drawing lines and smaller graphics on top of lipstick or on the cupid's arch. This innovative product can be used both to outline and to fill in.
Price: AED / QAR 35
4.14 FALL 2.0 EXTREME LIPGLOSS,a creamy lipgloss for a 3D effect and a freshness sensation
With its liquefied balm, extremely creamy and cushiony in application, this gloss hugs the lips in a soft and thin film, ensuring an incredible comfort.
This Extreme Lipgloss makes the lips irresistibly glossy and sheer and it can be applied over the lipstick for an ultra glossy and intense look.
The formula is enriched with hyaluronic acid with nourishing properties.
The texture contains refreshing agents, to offer a long-lasting freshness sensation.
Price: AED / QAR 55
4.15 FALL 2.0 KABUKI BRUSH, the perfect brush for professional contouring
A Kabuki brush suitable for applying and blending pressed and loose face powders as well as creamy textures. The dense, fluffy synthetic bristles ensure that the powder is dusted on evenly for buildable coverage. The ergonomic design of the handle is elegant and functional and makes it easy to grip for a controlled application. The hair is elastic and extremely comfortable and the higher part of them allow more precision. The kabuki brush's wide shape allows to collect the right amount of texture and to apply it uniformly, easily and quickly, with minimum product waste. The compact size makes the product handy.
Price: AED / QAR 80
4.16 FALL 2.0 BLUSH BRUSH, a precise and professional brush, ideal to sculpt the face
The Blush Brush sculpts the face with highlighter, bronzers and blushes. Its synthetic fibers ensure an even and effortless application, which contributes to create a smooth finish, for a flawless and professional look.
The shape of the hair has been specifically designed to accentuate cheekbones. The application is extremely easy and pleasant. The suggested application is with horizontal movements, to minimize the product waste.
Price: AED / QAR 89
4.17 FALL 2.0 POCHETTE, the elegant and stylish pochette that completes the look
A stylish pochette in blue metallic-mesh ideal for an elegant soirée. With a practical long chain, the pochette is perfect for carrying the Fall 2.0 products in every occasion.
Price: AED / QAR 115
4.18 FALL 2.0 EYE CONTOUR MASK, a hydrogel and energizing mask with lace design & anti-fatigue effect
The hydrogel mask with energizing and anti-fatigue effect has a lace design
It provides an effective treatment, immediate results to the eye contour
Application: Remove the two transparent films and apply on cleansed skin. Leave on for 10-15 minutes. Massage until completely absorbed. Single use.
For an even greater cooling effect, it is suggested to store in the refrigerator.
Price: AED / QAR 35