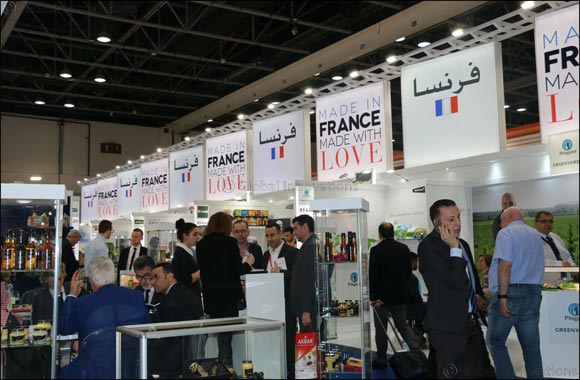 From September 18 to 20 2017 – Dubai World Trade center
2 French pavilions including new companies attending
Showcase of latest French Innovation over 520 square meters
Winning prizes each day on Business France stand S1 -D63
United Arab Emirates, 22 August 2017: Business France, the National Agency supporting the international development of the French economy will host two French pavilions at GULFHOST and the SPECIALITY FOOD FESTIVAL. The French offer will consist of kitchen equipment and gourmet products offered by over 50 French firms, each displaying premium products and knowhow.
This year, the French Pavilions have numerous novelties to offer. Business France export team will also be attending to boost business opportunities in the region, focusing on all buyer nationalities together with the most promising ones, namely: UAE, Lebanon, Egypt, KSA and Srilanka.
UAE imports 85% of its agri-food products, with France ranking 11th among its importers list, and the second most important European importer (3% market share in 2016). French agri-food products and equipment proudly fulfill quality and excellence demanded by consumers in the Gulf. Despite fierce competition, good prospects of growth are expected in trade relations between France and the Gulf.
French presence at Gulfhost:
Do not miss the showcase of the latest French innovations over a 520-m² area at Sheikh Saeed Hall.
Participating at Gulfhost this year:
Dev'up, promoting organization from the French region Centre Val de Loire
SYNEG, the French organization of professional kitchen equipment manufacturers partners with thirty leading firms exhibiting at the French Pavilion. As the prime partner of French SMEs, manufacturers and subsidiaries of international brands, SYNEG covers 75% of the market of professional kitchen equipment in France
Visitors of the French pavilion can also take part in the SYNEG & EQUIPHOTEL prize draw by dropping their business card to win a touch-tablet! Two winners will be selected each day from September 18 to 20.
French offer at Speciality Food Festival:
This year, the French Pavilion is stronger than ever with 22 brands exhibiting their latest products and creations over an area of 114 m² at the Hall ZA'ABEEL. It will be the location to enjoy and relish the display of generous and refined French gourmet sweets. Local consumption of French confectionery, from jam, 'dragées' to chocolate truffle, has been increasing lately, making it a strong point of attraction at the festival. Other food industries shall be present at the Festival, ranging from dairy products, to beverages and specific industries (e.g. oyster production). Visitors can then discover specific and diverse French products.
French firms have the expertise, technological abilities and strong innovation skills required to enable French agrifood businesses to be ranked among the top European exporters and gain worldwide renown.
Interesting and captivating perspectives to consider for those interested in top quality French products!
Participating for the first time at SFF this year are:
HORIZON INTERNATIONAL, promoting organization of the French region Nouvelle Aquitaine firms
FRIAA PACA, regional Agrifood Industry Federation from south of France
Le MONDE DE L'EPICERIE FINE, a reference magazine on market trends of gourmet products and a strong partner of firms working in this field. The magazine will be on display at the French Pavilion.
Long standing French partners such as EVIAN, BADOIT, CAFES RICHARD will also attend.