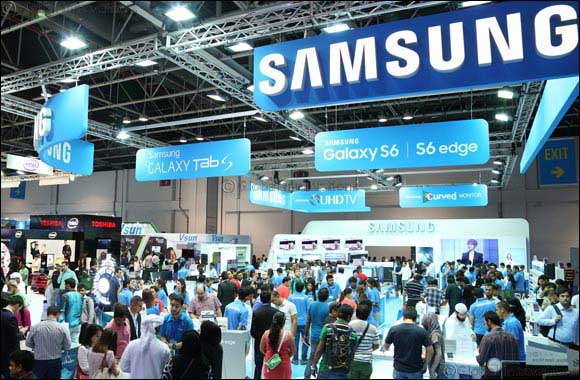 Latest tech brands & power retailers return to the Middle East's electronics show
New venue at Dubai World Trade Centre Za'abeel Halls
Consumer electronics market size in UAE worth US$ 11.3 billion
Dubai, UAE, August 22, 2017: This September marks the return of GITEX Shopper, the much-anticipated electronics show offering consumers unbeatable offers on the latest product launches from the region's largest power retailers and brands. GITEX Shopper 2017 takes place from the 23rd - 30th September 2017, and this year is held at a new location, Za'abeel Halls 3-6 in the Dubai World Trade Centre (DWTC).
The eight-day sales extravaganza, which has been part of the consumer tech growth in the region for nearly 30 years, has contributed to millions of dollars in sales for the world's top brands and the region's power retailers. The UAE consumer electronics market alone is now worth US$ 11.3 billion, according to Euromonitor International. A key driver of this growth is consumer connectivity, a constant in today's world. Mobile phone companies shipped more than 347.4 million smartphones worldwide in the first quarter of 2017. Meanwhile wearable tech and increasingly accessible VR hardware continues to broaden the category.
"GITEX Shopper is without a doubt a highlight of the year for the region. It's an excellent opportunity to purchase the latest must-have consumer electronics at unbeatable prices. With flash sales, all the UAE's major retailers under one roof and prizes to be won, the show really is a bargain-hunter's dream," said Trixie LohMirmand, Senior Vice President, Dubai World Trade Centre (DWTC). "This year, GITEX Shopper will be held at a new location in DWTC at the Za'abeel Halls – the new venue will offer maximum flexibility to accommodate a wide selection of the top tech products from brands and retailers."
The widest range of smartphones, TVs, laptops, wearable tech, smart watches, cameras and gaming consoles among many others, will be showcased under one roof. Giving consumers the ability to comparison shop on site truly allows for savvy shoppers to get the biggest bang for their buck. GITEX Shopper will also run competitions and prizes, with millions of dirhams up for grabs.
More than 35,000 products will be on offer at the show this year, with the world's top tech brands showcasing the latest products, including Samsung, HP, Nikon, and more.
Commenting on Samsung's participation, Purushotham, Head of Marketing (Smartphones & Tablets), IT & Mobile Division at Samsung Gulf Electronics, said: "At this year's GITEX Shopper, we will be showcasing some of Samsung's most innovative products including our newest and long awaited flagship device. We'll also have the latest S8 and S8+ smartphones, Gear S3, Gear VR, Gear 360 and other accessories, our revolutionary QLED TV, as well as a collection of Samsung's home appliances. Visiting the Samsung stand will be exciting, engaging and experiential – there's truly something for everyone!"
Photography has never been more popular or accessible for consumers of all ages, and GITEX Shopper provides the perfect platform for visitors to find the widest range of options. The world leader in digital imaging, precision optics and photo imaging technology, Nikon, is showcasing a range of diverse cameras and lenses with exciting offers at the show through its authorised retailers. Narendra Menon, Managing Director, Nikon Middle East FZE, said: "We are delighted to present a range of diverse cameras and lenses to our customers, through our authorised retailers at GITEX Shopper. There will be a variety of models to choose from depending on whether you are a budding photographer or a seasoned professional. This season, we are also looking forward to having some exciting offers on the Nikon D7500, our newest DX-format DSLR, that combines the performance of class-leading DSLR photography with outstanding agility and operability."
Synonymous with GITEX Shopper are the region's power retailers who bring consumer electronics to the Middle East all year round, and consider the show to be a cornerstone of their annual retail offering. These include Jacky's Electronics, Jumbo Group, Max Electronics and Sharaf DG, each bringing their own special deals and customer-focused promotions.
With a wide selection of offers and giveaways set to surprise and delight consumers, Nadeem Khanzadah, Head, Head of OmniChannel Retail, Jumbo Group, said: "GITEX Shopper is the most prominent consumer electronics retail shopper event in the region, and Jumbo is pleased to have been a key retailer at the event since its inception over 25 years ago. A lot of effort and investment goes into providing the best deals and bargains at the show which is highly anticipated by our loyal customers, and we'll be delivering the best-bundled offers, discounts, raffles, and premium giveaways like no other retailer at the event."
Jacky's Electronics will also be making sure that customers get the best deals on the latest and top-selling products. Mahesh Chotrani, AVP, Jacky's Electronics, said: "Jacky's has been a household name in the region for almost 30 years. We're a part of our customers' lives, whether in their hands, at their work, or in their homes because we cover the whole spectrum of consumer electronics and home appliances. We've got a lineup of spectacular fun and excitement at GITEX Shopper, and expect new products such as the new Samsung Galaxy Note 8, the Lenovo Legion Series and Dell XPS Series to be hot sellers."
GITEX Shopper 2017 will take place from 23-30 September and will open from 11:00am - 11:00pm every day. This year, tickets for GITEX Shopper will be priced at AED 30 for the weekdays and AED 35 for the weekend. Entry is free for children below the age of five.