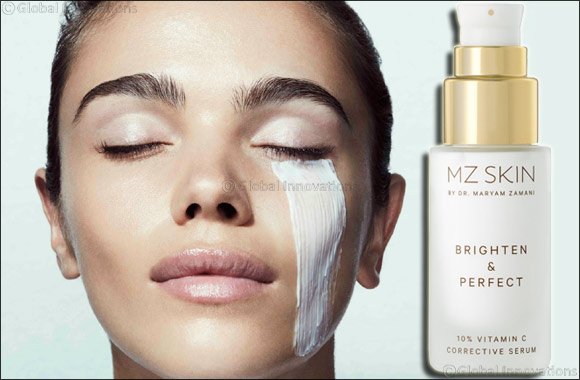 Dubai, UAE, August 17, 2017: Throughout the summer, whether it's soaking up the rays or enjoying a cocktail in the shade, UV exposure is almost impossible to avoid. This can lead to skin pigmentation due to a significant increase in the production of melanin in the body, resulting in discoloured marks or brown spots appearing on the skin.
As glowing skin is the best accessory for summer, MZ Skin Brighten & Perfect 10% Vitamin C Corrective Serum targets the appearance of dark spots and inhibits the production of future pigmentation, revealing a beautiful, sun-kissed complexion.
Designed by Aesthetic Doctor Dr Maryam Zamani, MZ Skin combines clinically proven ingredients with deluxe textures to create a high-performance, luxurious experience.
MZ Skin Brighten & Perfect serum is formulated with clinically-proven brighteners to reveal a luminous and more even skin tone. The peptide-rich formula fades pigmentation and reduces age spots, whilst the 10% concentration of Vitamin C forms a barrier against UV and free radical damage, boosting collagen production to protect against premature ageing. The Azelaic Acid also controls the pigmentation cycle by prohibiting future dark spots from forming, making it the perfect serum to apply before SPF.
With Sodium Hyaluronate to increase moisture retention and promote lasting hydration, MZ Skin Brighten & Perfect serum will leave the skin radiant and incandescent, leaving post-summer skin worries a thing of the past.

PRICE: £ 24 5