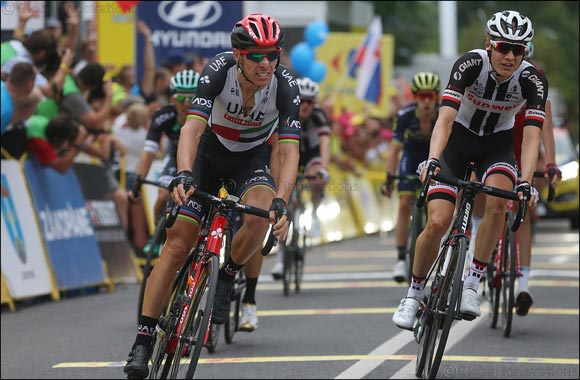 Rui Costa and Louis Meintjes to lead GC Charge at final Grand Tour of the season
United Arab Emirates. Wednesday 16 August 2017: UAE Team Emirates has announced the team that will tackle its first Vuelta a España - the third and final Grand Tour of the UCI World Tour season, this Saturday making it the first time that UAE colours will adorn the race. The line-up includes strong General Classification (GC) contenders as well as climbing and sprint specialists.
The Vuelta a España is the final showdown of the season and the youngest of the three Grand Tours starting in 1935, the Giro d'Italia began in 1909 whilst the Tour de France was established in 1903.
This year's edition kicks off with a 13.8km Team Time Trial in Nîmes, France making it the third time in 80 years that the opening race of the Tour has begun outside of Spain since 2009.
The race takes place from Saturday 19 August - Sunday 10 September, across 21 stages covering a total distance of 3,324km, with the GC winner taking home the coveted Maillot Rojo (Red Jersey).
Leading the UAE Team Emirates GC charge is South African rider Louis Meintjes and Portuguese rider Rui Costa, the latter of whom will be making his first appearance at Vuelta a España.
Commenting on his debut, former World Champion and UAE Team Emirates' rider, Rui Costa said: "This will be my race debut and I am excited about taking part in it. I am looking forward to enjoying every single stage and the challenges that come with it. The season is nearing its end and I want to savour every minute."
Speaking on his upcoming participation in the final Grand Tour of the season, South African Louis Meintjes said: "I'm currently undergoing altitude training in Andorra in preparation for the Vuelta. The training has been going really well following the Tour de France. I am gunning for a good GC result but it all depends on my performance, my body is still recovering."
Joining the GC contenders on the UAE Team Emirates line-up are six other riders including; Moroccan Anass Aït El Abdia, Italians Sacha Modolo and Federico Zurlo, Slovenians Jan Polanc and Matej Mohoric, Colombian Darwin Atapuma and Pole Przemyslaw Niemiec.
Confirming the line-up, UAE Team Emirates' Sporting Director Simone Pedrazzini said: "We are quite happy with the selection and believe we have a good team with a varied selection of specialisms. The riders are in-form and hopefully we will be able to target a few stage wins. Our GC contenders will be Louis Meintjes and Rui Costa, who will both be on the lookout for a top ten finish, whilst Darwin Atapuma and Jan Polanc will compete to be King of the Mountain. Our fastest rider, Sacha Modolo will be supported by two of our younger riders, Matej Mohoric and Federico Zurlo with Anass Aït El Abdia making his Grand Tour debut. Amongst the line up as well is Niemiec, who has previously won a stage in the 2014 edition of the race and his experience will definitely be valuable."
Like the previous two Grand Tours, this year's Vuelta route will feature an exciting array of stages with nine summit finishes, including the 13.3km long ascent to Alto de l'Angliru in Asturias, where riders climb 1,573 meters with grades as steep as 23.6%, making it one of the steepest climbs in Europe, ensuring to shake up the overall classification before the final stage in Madrid.
The route will also take riders across six flat stages, eight hilly stages, five demanding mountain stages, one Team and one Individual Time Trial. Setting off from Nîmes, the first two stages of La Vuelta will be contested in France before crossing the Pyrenees towards Andorra, taking the peloton across the northern Spanish coast. The remainder of the stages will see riders cross the finish line in the following spanish cities: Tarragona, Valencia, Murcia, Andalusia, Navarra, La Rioja, Castilla y León, Cantabria, Asturias and ending in the stunning Spanish city of Madrid.
VUELTA A ESPAÑA STAGES
Stage one, Saturday 19 August: Nîmes (France) (TTT), 13.8km
Stage two, Sunday 20 August: Nîmes (France) – Gruissan (France), 201km
Stage three, Monday 21 August: Prades Conflent Canigó (France) – Andorra la Vella (Andorra), 158.5km
Stage four, Tuesday 22 August: Escaldes-Engordany (Andorra) – Tarragona (Spain), 193km
Stage five, Wednesday 23 August: Benicàssim – Alcossebre, 173.4km
Stage six, Thursday 24 August: Villareal – Sagunt, 198km
Stage seven, Friday 25 August: Lliria – Cuenca, 205.2km
Stage eight, Saturday 26 August: Hellín – Xorret de Cati, 184km
Stage nine, Sunday 27 August: Orihuela – Cumbre del Sol, 176.3km
Rest Day, Monday 28 August
Stage 10, Tuesday 29 August: Caravaca Jubilar – Elpozo Alimentación, 171km
Stage 11, Wednesday 30 August: Lorca – Observatorio Astronómico de Calar Alto, 188km
Stage 12, Thursday 31 August: Motril – Antequera, 161.4km
Stage 13, Friday 1 September: Coín – Tomares, 197km
Stage 14, Saturday 2 September: Écija – Sierra de la Pandera, 185.5km
Stage 15, Sunday 3 September: Alcalá la Real – Sierra Nevada, 127km
Rest Day, Monday 4 September
Stage 16, Tuesday 5 September: Circuito de Navarra – Logroño (ITT), 42km
Stage 17, Wednesday 6 September : Villadiego – Los Machucos, 180km
Stage 18, Thursday 7 September : Suances – Santo Toribio de Liébana, 168.5km
Stage 19, Friday 8 September : Parque Natural de Redes – Gijón, 153km
Stage 20, Saturday 9 September: Corvera de Asturias – Alto de l'Angliru, 119.2km
Stage 21, Sunday 10 September: Arroyomolinos – Madrid, 101.9km
HOW GENERAL CLASSIFICATION RESULTS ARE CALCULATED
All 21 stages of the race are timed. Once riders complete the stage, their times are compounded with their preceding stage times. The rider with the lowest collective time is the General Classification (GC) leader and is awarded with the Red Jersey (Maillot Rojo). The winner of this classification is considered the winner of the Tour.
Remaining three Jerseys include:
King of the Mountain (Blue and White polka dot Jersey; aka Maillot de Lunares)
Awarded to the rider who has finished with the most climbing points. Points are awarded at the top of each climb depending on your position when arriving at its peak.
Points (Green Jersey; aka Maillot Verde)
Awarded to the rider who claims the most points for sprint finishes and intermediate sprints.
The 'Combined' Jersey (White Jersey; aka Maillot Combinada),
Awarded to the rider with the best combined results across the General Classification, Points and King of the Mountain competitions.