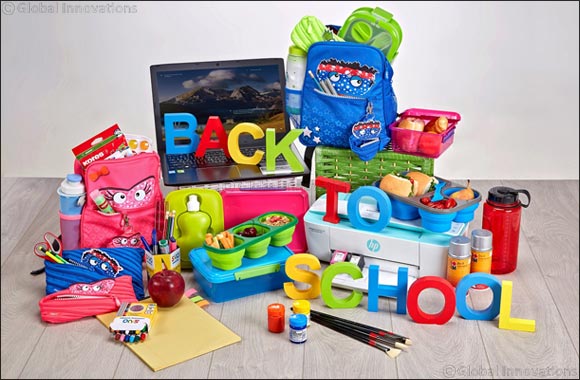 Dubai Festival City simplifies the back to school season by offering a one stop destination for your favourite back to school essentials
Dubai, UAE, 16 August 2017: Dubai Festival City is offering a wide range of back-to-school promotions to ensure that your kids will look their best for the school year ahead at; Sacoor Brothers, Marks & Spencer and GAP, and stock up on school supplies from Borders, ACE, E-MAX and Carrefour.
To get parents prepared and make it fun for the little ones, here are some of Dubai Festival City's top tips and tricks, as well as in store favourites for this season.
Top tips to simplify your shopping experience at Dubai Festival City
CROSS-CHECK WHAT YOU ALREADY HAVE – Don't double up on supplies! Before heading to the mall, take stock of what you already have at home. This will not only save you time but will give your wallet a break! Make sure to keep an eye out for Dubai Festival City's latest instore promotions, so you can get the best value out of your school supplies.
MAKE A LIST – Make a list and divide them into categories. This will help keep your thoughts organised, manage your budget and navigate the mall with ease, particularly if you bring the kids in tow. If you're looking for a specific retail store where you can find all your back-to-school essentials in the nick of time, ACE Hardware and Borders are our top picks!
MAKE IT A FUN EXPERIENCE - Allow your kids be a part of the shopping experience by getting them to help find the products in-store. You could set a challenge where they receive a treat at the end of the day based on how helpful they have been and which of the key items they have found from your list. Fabyland and IMAGINE are family favourites at Dubai Festival City. For the launch of IKEA's newest catalogue, a stunning 4 room pop-up will be displayed at Festival Square with activities for the whole family to enjoy, including craft workshops - held on the 21st and 28th of August and the 4th of September.
CHOOSE A CONVENIENT LOCATION - After all that shopping when it is time to indulge in savory and sweet delights, Dubai Festival City has over 75 restaurants to choose from – many of which will feature waterfront dining at Serendipity 3, Chili's and Joe's Crab Shack who will be offering a 'kids eat free' deal during back to school season.
Top 3 picks for Back to School Essentials at Dubai Festival City Mall
FASHION & SHOES: Marks and Spencer; offering a wide variety of school wear including a 20% off every 250 AED spent. At GAP shoppers can save AED 50 for any purchase of AED 200.
BOOKS & STATIONERY: ACE Hardware and Borders are offering a wide selection of school bags, lunch boxes, as well as special bundle stationery starting from just AED 5.
ELECTRONICS & ACCESSORIES: For the tech-savy kids, CenterPoint offers gadgets and accessories, with a special promotion of a Bluetooth speaker or headphones for just AED 10 when you spend AED 250. E-MAX is also offering a 12% discount on all Macbook range items.