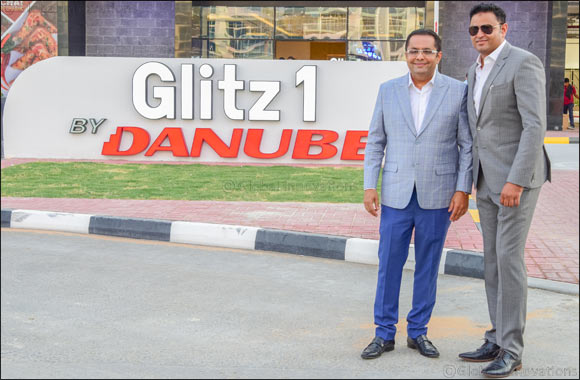 Dubai-based property developer gets ready to hand over 302 sold-out units to customers this month – within two years of the launch of the affordable luxury homes to customers
Dubai, August 15, 2017: Danube Properties, which launched eight projects in three years with a combined development value exceeding Dh3 billion, announces the completion of the Dh350 million – Glitz Residence I and II projects – within two years of the sales launch.
Owners of all the 302 sold-out units will soon start taking deliveries of their units as Danube prepares to welcome its customers – happy homeowners.
Since making its foray in real estate market in 2014, Danube Properties has launched 3,217 units (Including 3,165 Residential units and 52 Retail units) split in to eight projects, of which 302 units are ready for handover while the rest are in various stages of construction.
Danube Properties, the real estate development arm of Danube Group – the largest building and home furnishing products suppliers in the Middle East, is scheduled to deliver a total of 831 units – worth Dh1 billion – this year, once approved by various government bodies.
The company, which sold nearly a Dh1 billion worth of projects last year under what is perceived to be a very difficult time for the real estate market, continues to defy the odds as it strengthens its real estate portfolio – currently its biggest – in addition to building materials, interiors and home furniture, fashion, retail, food and beverage.
The company has launched two major projects – the Dh300 million Resortz and the Dh450 million Bayz – in quick succession earlier this year. Construction of Resortz has already started while Bayz is undergoing tendering phase. These two projects, worth Dh750 million are part of the 68 real estate projects registered with the Dubai Land Department, with a combined development value of Dh21 billion, during the first half of 2017.
All its existing projects are expected to be delivered by the end of 2019, as per the development plan. Rizwan Sajan, Chairman of Danube Group, says, "The most important aspect of property development business is to be able to deliver projects on time, on budget and with the best quality within that price range to happy customers. Today, I am happy to welcome home owners and families to their freehold homes – developed by Danube.
"For us, this is not the beginning of the end – but the end of the beginning as we prepare to deliver our promises – 831 homes worth Dh1 billion – this year, subject to government approval. In terms of portfolio value, this represents a third of the Dh3 billion worth of homes – within the first three years of entering the
real estate development business.
"The ultimate goal of any builder is to design excellent project, construct them using the best methods and materials and deliver it to the property buyers. It not only gives us a sense of achievement, it also helps us define our benchmark of construction quality. The project delivery will help us further reinforce our construction business.
"This reflects the seriousness that we attach to our business and our customers, regardless of the market conditions and external factors. This also reflects the level of commitment and the strength of the company's character and the level of dedication by all the members of the Danube team.
"On this occasion, I congratulate all the members of my team, the consultant, contractor, sub-contractors and suppliers in delivering the project on time, on budget and with the best quality.
"At Danube, timely delivery of projects will be a key performance factor against which we benchmark our success and customer happiness."
Naresco General Contracting was the main contractor of Glitz Residence I and II projects.
The developer's move comes at a time, when its parent company Danube Group enters its 25th year of operations. The group, credited for supplying the largest quantity of building materials to the Gulf's construction and real estate sectors that has gone through a number of rapid growth cycles that helped Danube Group to fund its expansion and diversify its portfolio in to different sectors.
Since 2015, Danube has championed a game-changing payment plan that allows property buyers to pay 1 per cent of the value of the property value in 75 instalments – after paying 25 per cent down payment.
"This helped us to attract the end-users – who have been living in rented homes. The whole idea behind launching our unique payment plan was to help buyers acquire the property with lower equity investment and ease of paying through economical instalments spread over a longer span," Rizwan Sajan explains.
"This payment plan is helping the fixed-income households to buy and move in to their dream homes. In many ways – this is more convenient then the 'rent-to-own' or 'hire-purchase' schemes, where the property buyers can move into their homes after approximately paying 50 per cent during construction period and the balance payment like a rent cheque per month.
"This helps the end-users to insulate them from the hassles of mortgage finance and interest rates as well as the rent-related inflationary pressure."
Danube Properties, part of the Danube Group, made its foray in to the real estate market in June 2014, by launching the Dh550 million 175 townhouses under Miraclz at Al Furjan. Since then, it continued to expand its development portfolio by launching Glitz Residence I, II, III, Starz, Glamz, Miraclz, Resortz and Bayz projects.
The company currently has a development portfolio of 3,217 units, including 3,165 residential units with a combined value exceeding Dh3 billion. It is delivering about 831 units in 2017, with a combined sales value of Dh1 billion – or a third of its portfolio value.