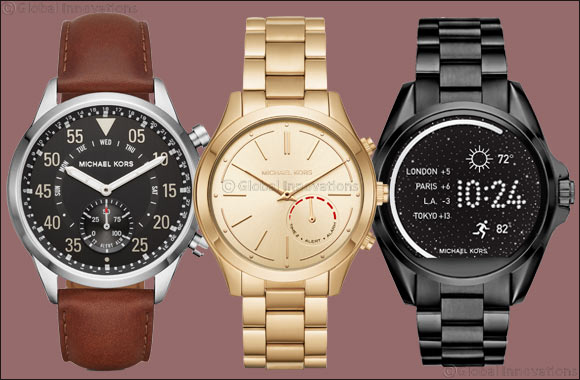 Dubai, UAE, August 10, 2017: Michael Kors a global luxury fashion brand, is pleased to announce a host of new products and initiatives designed to further the growth and excitement generated by last fall's launch of MICHAEL KORS ACCESS, the brand's line of smartwatches and activity trackers.
The cutting-edge technology, which runs with both iPhone and Android phones, is made possible through a partnership with Google, using their Android Wear™ smartwatch platform. John Idol, Chairman and CEO of Michael Kors, and David Singleton, VP of Engineering for Android Wear, announced the launch at Baselworld 2016, the watch industry's premier trade show.
Designed to show that technology and social connectivity should be seamless, the MICHAEL KORS ACCESS line proves that access can be both glamorous and effortless. "It's clear to me that the future of fashion will combine great design, personal style and innovative technology," says Michael Kors, "and the amazing response to MICHAEL KORS ACCESS has confirmed that that future is now. We're thrilled to be able to offer this next generation of smartwatches and hybrids."
Of special note:
A SIGNIFICANT EXPANSION OF MEN'S SMARTWATCHES
Michael Kors believes that men's smartwatches represent an important opportunity for the future. In addition to the new touchscreen smartwatch, the brand is also introducing two new hybrid smartwatch styles for men and expanding the existing Gage hybrid assortment. Together, these new options will offer the Michael Kors man a broad range of exceptional-looking smartwatch designs enhanced with the fitness tracking, sleep tracking and notifications he finds most useful.
THE EVOLUTION OF THE MICHAEL KORS ACCESS MICRO APP
The next iteration of the app will feature exciting, socially driven functionality, as well as new customizable digital watch faces. My Social is a feature that allows the user to link to her or his Instagram account and set a personal post photo as a watch face. The app allows you to scroll through your Instagram feed, select a favorite image, and even apply filters, creating a watch face that's as personal as your life. By the end of 2017, the brand will have released 15 new digital watch faces, all with multiple customizable elements.
"MICHAEL KORS ACCESS display smartwatches have been extremely popular choices for users who wish to wear watches that are both stylish and functional," says David Singleton, Vice President of Android Engineering, Google. "We're very excited to continue the partnership with Michael Kors to create beautiful new devices that let people express their style while staying connected through the latest features of Android Wear 2.0."
"When we launched, we stated that we would grow our wearable technology line by listening closely to our customers," says John Idol, Chairman and CEO of Michael Kors. "They have made it clear that they love being connected, love the ease of notifications from their favorite apps, and can never get enough customization. We're pleased to be introducing exceptional new smartwatches and software that deliver on those fronts and others, and in more markets than ever."
ABOUT MICHAEL KORS ACCESS TOUCHSCREEN SMARTWATCHES
All MICHAEL KORS ACCESS touchscreen smartwatches offer customizable features perfect for the brand's sophisticated, busy and socially connected customers:
Exclusive Michael Kors display watch faces, which change with a swipe—whether it's a digital chronograph designed for the gym or glittering, animated pavé for night
Hundreds of possible combinations of display face, color and sub dials
A touchscreen display smartwatch powered by Android Wear 2.0 so you can:

Download third-party apps easily through the on-watch Google Play Store
Meet your Google Assistant™ by holding the power button or saying "Ok Google." Ask about weather, set a reminder, get directions and more.
Customize watch faces, color combinations and information to suit your style, your mood and your life
Track runs, bike rides, strength training (e.g., pull-ups and push-ups) and more through Google Fit
Measure calories, pace, distance and additional exercises based on settings
Streaming music right from the watch when you are connected to phone or WiFi with the Google Play Music app.

Interchangeable leather, silicone and stainless steel straps
Styles for men and women
Magnetic charging