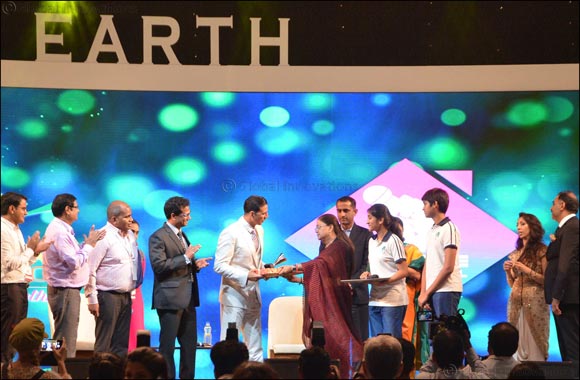 Exchange Programme/Partnership Agreed Between Government of Rajasthan and Culture & Knowledge Ministry of UAE
UAE based GEMS Education and the Government of Rajasthan announce Elementary Education plan
Festival of Education spotlighted India's Leadership Position as a New World intellectual Capital & Rajasthan as a Knowledge Hub
Thought-Leadership Panel Discussions with Change-Makers in India and around the world covering a broad range of sectors, from Education to Entertainment
10th August 2017, UAE & LONDON: The Government of Rajasthan announced a wide range of outcomes and partnerships at India's inaugural 'Festival of Education' – the largest festival of its kind in South Asia - held in Jaipur, between the 5th and 6th of August 2017. The festival, organised as a result of the collaboration between the UAE based GEMS Education, the world's largest private K-12 school education provider, and the Government of Rajasthan, was incepted to celebrate the future of education, facilitating knowledge exchange and exploring a new world of possibilities for Education in Rajasthan and the "New India" with clear actions and solutions.
Several government departments, agencies and figures pledged to work together towards the outcomes, aimed at creating lasting impact and cementing Rajasthan's status as a knowledge hub. These departments included the Department of Art & Culture, who announced plans to work with His Highness Sheikh Nahayan Mabarak Al Nahayan, Minister of Culture and Knowledge Development, UAE to create an exchange program and partnership between the Government of Rajasthan and the Culture & Knowledge Ministry of UAE.
Other outcomes from the festival included assurance from Bollywood megastar Akshay Kumar to assist Panchayati Raj & Rural Development's efforts in sanitation, with the aim of amplifying the scope and reiterating the importance of achieving better hygiene and an open defecation free India. Also announced was a partnership between the Department for Higher & Technical Education and the British Council to develop Rajasthan as a hub for Higher Education.
An unprecedented event, the festival saw over 100,000 global innovators, academicians, faculty, change-makers, vice chancellors, educationalists, teachers, students, parents, scientists, and policy makers under one roof, united by the same goal - to give shape to the future of education through discourse, discussion and debate.
His Highness Sheikh Nahayan Mabarak Al Nahayan Minister of Culture and Knowledge Development, UAE as the Guest of Honour and the keynote speaker at the Festival of Education delivered a passionate Keynote address. He highlighted that every child should have the right to an education, citing the key role it plays in the personal and social development of any human being, enabling children to acquire knowledge and skills, to help define their future.
He mentioned that for the proper development of any country, it was imperative that every child, regardless of their gender or social background, should have equal opportunities in exercising their right to learn. Education has the potential of enabling the world to end all economic inequalities and discriminations
Sheikh Nahyan called upon parents and the entire society to join the governments in ensuring children receive a quality education to provide a greater platform for the overall development of the young next generation.
He also asked teachers and educational authorities to adopt creativity and make efforts to ensure education was made accessible to every child even in the remotest parts of the world.
Sheikh Nahyan thanked Rt. Honourable Chief Minister of Rajasthan Vasundhara Raje for her visionary input and ideas behind the of organisation of the festival and said he was confident that the teachers and pupils of Rajasthan were getting acquainted with the novel ideas of providing education, helping revolutionize the scenario of education.
Rt. Honourable Chief Minister of Rajasthan Vasundhara Raje said given the geographical and demographic circumstances of the state of Rajasthan, providing quality education to children in the State was a big challenge. Accepting this challenge, her government brought major changes in the educational set-up and made it learning based. The efforts are helping talented students to obtain opportunities of higher studies in medical, engineering, law, management and other such disciplines. These subjects were basic to the development of humanity, she added.
Member of UK's House of Lords and Deputy Chair of British Council Baroness Usha Prasar commended Rt Hon. Vasundhara Raje for her vision and said that with the steps she undertook, Rajasthan would soon be an education hub. Present and future generations needed skilling along with education and the same was being offered in Rajasthan.
Representing GEMS Education at the Festival of Education Mr. Amreesh Chandra, Group President, GEMS Education, India said "We are proud to present the Festival of Education. An initiative powered by GEMS for the Government of Rajasthan that is aimed at taking the education ecosystem of the country to the next level. India is now the new intellectual capital of the world and within that Rajasthan is poised to be the knowledge hub."
On this occasion, Higher and Technical Education Minister Smt. Kiran Maheshwari, Minister of State for School Education Shri Vasudev Devnani, Members of State Cabinet, MPs, MLAs, Chief Secretary Shri Ashok Jain, Founder of Gems Education Shri Sunny Varkey, Vice Chancellors of several universities, educationists, researchers, students and senior officers of the state government were also present.
Bollywood megastar Akshay Kumar, internationally recognized for enabling passionate tailwind for notable social causes, extended his support for the Festival of Education. Akshay Kumar participated in a panel session with Amreesh Chandra, Group President, GEMS Education, India where he addressed various questions, touching upon the subject of socially conscious film making, including his decision to embrace the world's first feature film on open-defecation 'Toilet: Ek Prem Katha'. Answering the question, he said: 'I wanted to highlight how a 'Toilet' is crucial to India's health & sanitation, our state of living, even in the 21st century. More importantly I wanted to highlight how this film and the issues we are spotlighting affects the majority of women in this country, the country that we call our Motherland, yet our mothers, wives & sisters quietly & shamefully have to live without toilets & in conditions that should be inexcusable especially in this day & age.'
Akshay Kumar was also praised by Chief Minister of Rajasthan, Rt Hon Vasundhara Raje for his revolutionary efforts. She said: "For the first time, somebody (in cinema) has bothered about issues close to women's hearts. It is so very essential to living, and it is a subject that not many people would have touched. But Akshay has taken it, and he has taken it head on, so I need to congratulate him for this amazing job. I don't think there is a single state today that isn't fighting to make their states Open Defecation Free. Rajasthan is one of them, and we are hoping that by 2018, we would be able to actually reach this."
As part of the expert panel sessions that followed on the second day of the festival, the Rt. Honourable Chief Minister of Rajasthan Vasundhara Raje was interviewed by Natasha Mudhar, a prominent business and communications strategist and CEO of Sterling Media, known globally for propagating the United Nations Global Goals to end global poverty by 2030. In the session titled 'Good Hygiene: The Greatest Gift Every Girl Should Give Herself', the Chief Minster shared insights on some of the most critical issues surrounding her work in promoting gender equality in the State of Rajasthan and the role that schools can play to achieve this. She said: Schools are a great leveler when it comes to gender. When together at school, girls and boys compete as equals. The Chief Minister highlighted how by ensuring equity, she is taking an initiative to empower girls and women to overcome feudal mindsets.
The Chief Minister has launched several initiatives in the state, tackling a range of issues relating to open-defecation and hygiene including the Water Sanitation & Hygiene Education programme. Her actions extend to installing mirrors in common areas in schools to sensitise children towards tidiness right through to installing sanitary towel napkin dispensers. She highlighted the need for an open conversation about puberty as this was important information for girls in schools. She further added: "We are not only educating young girls about hygiene but also young boys."
Elaborating her vision for girls in her state of Rajasthan, the Chief Minister answered to a rapturous applause saying: "I want to see my girls sitting here where I sit today".
The Festival of Education was held between the 5th and 6th August 2017 at the Jaipur Exhibition & Convention Centre.