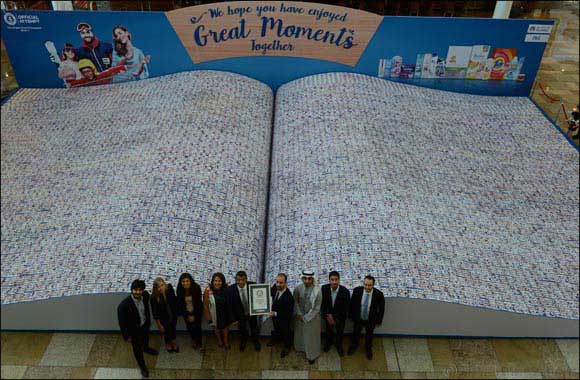 Dubai awarded new Guinness World Record
Carrefour and Procter & Gamble organize for thousands of UAE citizens, residents and visitors to celebrate their happiest memories
More than 10,850 pictures make up the world's longest ever line of photographs, now on display at Dubai Festival City
Dubai, 9 August 2017: Thousands of UAE citizens, residents and visitors today helped set a new Guinness World Record for the longest line of photographs ever gathered.
The record-breaking line of photographs measures 1655.192 meters (i.e. more than 1.5km) long, and is on display in the atrium of Dubai Festival City. Thousands of UAE citizens, residents and visitors took part in the attempt, which was part of a partnership campaign between Procter & Gamble and Carrefour, which is operated by Majid Al Futtaim.
Carrefour customers shopping at the brand's stores at either Mall of the Emirates and Dubai Festival City between 30th July and 9th August were given the opportunity to be part of the new Guinness World Record by submitting a photograph of one of their happiest memories. More than 10,850 photographs were donated by members of the public and visiting judges from the Guinness World Records today verified on-site that Dubai is the holder of the new world record. The photographs will be on display at Dubai Festival City until 16th of August, as part of a thank you to customers of Carrefour's latest hypermarket, which opened in the mall earlier this year.
The world record attempt enabled people in the UAE to relive treasured moments again as well as play a part in setting a new world record for the nation. The campaign also created new happy memories: customers that visited any Carrefour hypermarket or supermarket across the UAE and purchased AED 100 worth of participating P&G products from selected brands during the campaign also had the chance to win family experiences to attractions such as Ski Dubai, iFly, VOX Cinemas and other Majid Al Futtaim attractions. More than 140 prizes were given away to happy customers during the campaign.
"It was an easy decision to take part in this community event which celebrates treasured moments", said Miguel Povedano, Chief Operating Officer of Carrefour UAE at Majid Al Futtaim Retail. "At Majid Al Futtaim we strive to create great moments for everyone, every day. As such, there was a natural fit between what Carrefour and Proctor & Gamble wanted to achieve, and we're delighted that we have been able to help enable a new world record which celebrates special moments of people in the UAE, as well as help create new memories for our Carrefour customers."
Commenting on the new world record set in Dubai today, Talal Omar, Guinness World Records Country Manager – MENA said: "Families and children have always been at the heart of Guinness World Records and we take great pride to be a part of this unique and memorable experience that showcases moments of happiness shared by families and loved ones. We are always keen in bringing an 'officially amazing' experience to our core audience, and what better than to deliver the experience in a manner that expresses joy for moments of togetherness through the 'Great Moments' campaign."
"We wanted to conceive a simple way for our shoppers to be able to give back to those that they love, and this new world record was the result," said Khaled Adawi, Director, Procter & Gamble in the Arabian Peninsula. "I want to thank ever person who has taken the time to stop and take a picture of thanks for their family members and friends who bring us happiness. Everyone who has taken part has walked away with a smile, and that little act of giving thanks has been repeated by thousands of consumers across the country to create another Guinness World Record for the UAE."