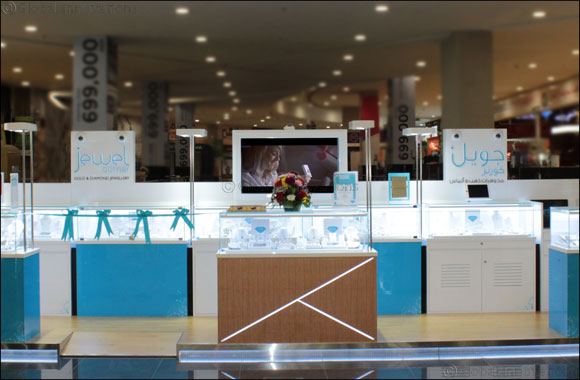 Dubai, United Arab Emirates (August 9, 2017): Jewel Corner, a fine jewellery brand from UAE, opened a new kiosk on August 3rd 2017, opposite Union Coop Hypermarket, at Al Barsha Mall. The mall is a lovely destination for families and friends to enjoy a unique shopping experience. The new Jewel Corner kiosk offers carefully-crafted designs of gold and diamond jewellery, with assurance of quality.
The opening of the kiosk will be followed by Jewel Corner's exclusive 'happiness activity' Queen's event, in which customers are given a chance to wear a 20-carat diamond-studded tiara, with 11 pieces of blue topaz, of which one is a big central piece. Customers are encouraged to take a selfie with the tiara and post the picture on the Facebook page of Jewel Corner. The entire experience is in synergy with the brand philosophy of spreading happiness.
Jewel Corner offers high-quality diamonds, coloured stones, pearl and gold jewellery that are SGL certified for its authenticity. The company has an award-winning design team that crafts world-class designs, which are attractively priced and also meet the gifting demand in the GCC region. Rihen Mehta, Chairman, 7Cs Group, says, "We are very happy to announce yet another Jewel Corner kiosk opening in Dubai this year. Our wide array of collections at an affordable range has helped carve a niche for Jewel Corner in the gifting segment. With the upcoming festive season, the store is expected to perform well. We hope to spread the joy of 'box of happiness' to more and more customers with our store expansion plans."
Jewel Corner also has a customer-friendly online store, www.jewelcorner.com, which is another easy-to-access shopping destination for those who want to shop anytime and from any place of their choice. The website displays a 360-degree view of the Jewel Corner products that makes purchase decisions easier.