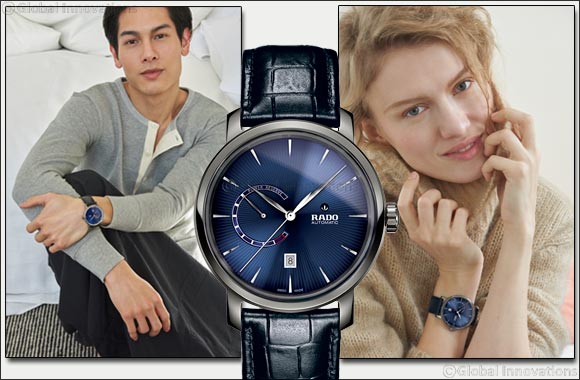 Peak performance for you and your timepiece
Dubai, UAE, August 8, 2017: Rado is known in the watchmaking world for its avant-garde designs and unexpected use of cutting-edge materials. The new DiaMaster Power Reserve now lets the beauty and craftsmanship of what lies inside a Rado also come to the fore.
The 43 mm DiaMaster Power Reserve is crafted in either polished black or plasma high-tech ceramic, making it five times more scratch resistant than a comparable steel watch while being 25% lighter. The high-tech ceramic construction of the DiaMaster Power Reserve offers unparalleled comfort, with lightweight hypoallergenic surfaces that adapt readily to the wearer's skin temperature.
The timepiece also offers the easy to read, wide-open dial that is characteristic of the Rado DiaMaster family. Embellished with a sunray pattern, the dial shines in either black or blue, with the power reserve indicator situated at 9 o' clock. Perhaps the most practical of all complications, the power reserve feature helps ensure peak performance for both you and your timepiece – while serving as a pleasant reminder of the technology within.
Fascination on the wrist
A Rado timepiece is an object of wonder and fascination, both inside and out. This is particularly true for automatic watches, which derive their power from a tiny, complex mechanical engine. At the heart of this engine lies the mainspring: a metal coil that achieves peak power when most tightly wound. The amount of run time in the watch diminishes with the unwinding of the coil, gaining its power from rewinding as well as from the motions of the wearer's wrist.
Engineered to last up to 80 hours between wears, the DiaMaster Power Reserve features a réserve de marche indicator on the dial that lets you easily keep track of this remaining run time. Designed for the man on the go, the power reserve indicator lets you know when to take action to keep your Rado ticking: Simply give the watch a few winds when the power reserve hand drops too close to empty.
With the new DiaMaster Power Reserve, you can be sure that time is always on your side.