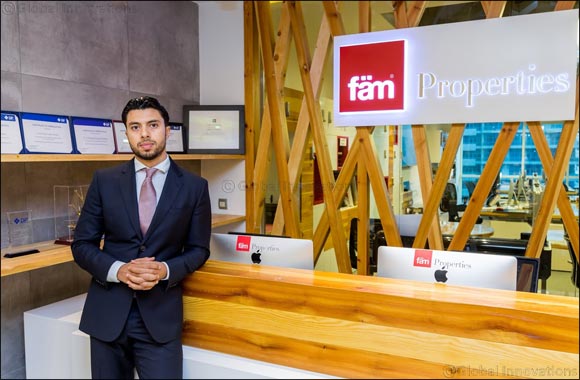 Al Msaddi says unique Dubai project highlights need for developers, investors to focus on supply and demand factor
Dubai, UAE, 8 August 2017: One of Dubai's largest real estate brokerages, fäm Properties, has topped AED1.3 billion in residential property sales at City Walk, the new destination developed and managed by Meraas in the heart of Jumeirah.
Firas Al Msaddi, the fäm Properties CEO, said today that the bulk of sales were to first-time buyers of buildings, while just over AED325 million worth of sales were in the secondary market.
He believes the volume of sales delivers a strong message to both developers and investors about the importance of understanding, and capitalising on, the dynamics of supply and demand in the Dubai property market.
"It shows how important it is that developers study the current type and volume of property supply as well as demand in today's market," he said. "This will allow them to create an exclusive product with unique specifications and features that fashion a new type of living experience, rather than duplicate something already in good supply.
"At the same time, there's a lesson here for investors about picking developments and properties that deliver new and more attractive lifestyle offerings to continuously attract end-users".
City Walk is the only freehold, modern, low rise development in Jumeirah with exclusive retail and entertainment components. The five-and six-storey pavilion-style City Walk Residences are complemented by many first-time shopping, entertainment, hospitality and wellness options.
The project will house signature hotels, more than 300 retail brands and a High Street Boulevard featuring boutiques, galleries, restaurants & cafés.
Said Msaddi: "We were the first real estate company to start promoting City Walk to investors after Meraas launched sales, and we have channelled a great deal of capital investment under our control into the project because of its unique appeal."
Now targeting AED1.5bn in overall sales at City Walk by end of Q3 2017, fäm Properties is using an 18-strong team of real estate advisors for all property management, leasing and sales requirements on site, while its engineering team is handling handover and snagging.
Special attractions at City Walk include the 20,000 capacity Dubai Arena and the Green Planet Bio-dome which recreates a tropical forest with 3,000 plants and animals.