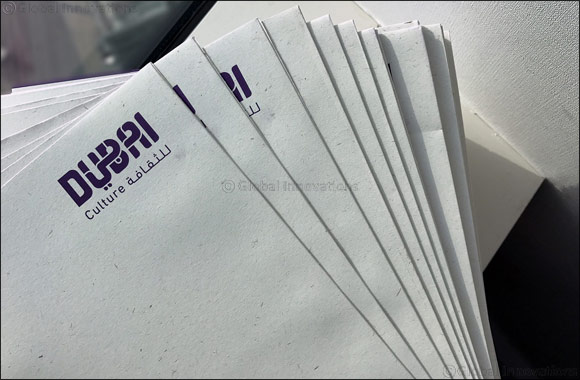 Dubai, United Arab Emirates, 03 August 2017: Dubai Culture & Arts Authority (Dubai Culture), the Emirate's dedicated entity for culture, arts and heritage, has launched 'Namaa' – an internal paper recycling project that encourages the Authority's employees to reuse paper and reduce waste.
'Namaa' has been launched by Dubai Culture's corporate social responsibility team across the Authority, and will see all paper recycled into new materials. The project aims to help Dubai Culture achieve sustainability and avoid wasting resources by encouraging the adoption of environment friendly business concepts among the Authority's employees.
The project has managed to recycle 100% of Dubai's cultural documents, including envelopes of all sizes as well as internal and external correspondence papers, and the Authority is currently using recycled paper on a daily basis.
Dubai Culture protects the environment and promotes sustainability via a number of initiatives and projects. The Authority recently supported Dubai Electricity & Water Authority's 'Let's Make this Summer Green' environmental awareness campaign, which was hosted at the Al Twar branch of Dubai Public Library, and also donated used devices to Dubai Municipality's Digital Devices Refurbishment Centre with the aim of minimising e-waste.
Dubai Culture aims to enhance Dubai's cultural scene and draw attention to the Emirate's rich heritage with a variety of initiatives that take place throughout the year. The Authority's mandate is to build bridges of constructive dialogue between different civilisations and cultures through enriching initiatives that benefit the Emirate's citizens, residents and visitors