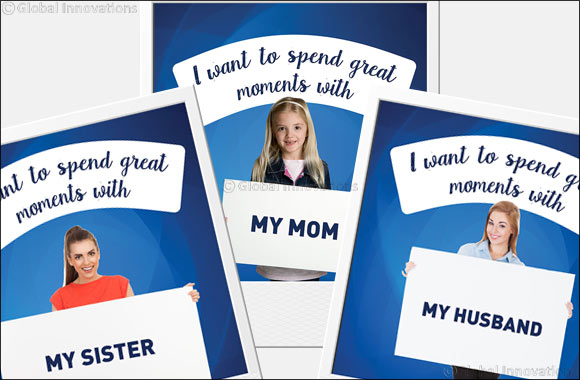 Procter & Gamble and Carrefour give UAE consumers the chance to share their great moments of happiness with loved ones, break a Guinness World Record and make new moments of happiness by winning family experiences
Dubai, UAE, August 3, 2017: In partnership with Carrefour, P&G is giving UAE consumers the chance to both share their great moments of happiness with their families and loved ones and create new ones by winning family experiences. From July 30th until August 9th consumers can take part in the world's largest campaign to express joy for moments of togetherness.
During the campaign consumers who visit Carrefour at Mall of the Emirates or Dubai Festival City Mall and who express who is part of their Greatest Moment can become a part of the Guinness World Record attempt for the longest line of photographs. The Greatest Moments campaign was conceived to help consumers in the UAE both show their appreciation for who makes them the happiest, as well as enable them to make new moments together that they'll cherish. The photographs shared by shoppers will be used to form the world's longest line of photographs, which will be put on display for family members and loved ones to see at the end of the campaign. On August 9, Guinness World Records representatives will be invited to Dubai Festival City to verify the record.
"Being with the people you love may just be the most valuable gift anyone can ask for. Which is what P&G and Carrefour aim to offer shoppers through this new "Great Moments" promotion. We live in one of the most vibrant places in the world, which is moving at such a fast pace. We want to encourage our consumers to step back for a moment and think about who makes them happy, and give them an opportunity to share this thought with that person as well as offer them a chance to make new great moments together," said Khaled Adawi, Director, Procter & Gamble in the Arabian Peninsula.
In addition to the record attempt, consumers that visit any Carrefour hypermarket or supermarket across the UAE and purchase AED 100 worth of participating P&G products from selected brands will have a chance to make new moments of happiness by winning family experiences to attractions such as Ski Dubai, iFly, VOX Cinemas and other Majid Al Futtaim attractions.
"At Majid Al Futtaim we believe that there's nothing more valuable than great moments spent together with the ones we love. Carrefour is a store for all the family so we wanted to remind our customers about the importance of spending quality time together at a time of year which is traditionally associated with fun memories. We're excited about the thought of setting a new world record in our store that reflects our company's values too," said Miguel Povedano, Chief Operating Officer at Majid Al Futtaim Retail.