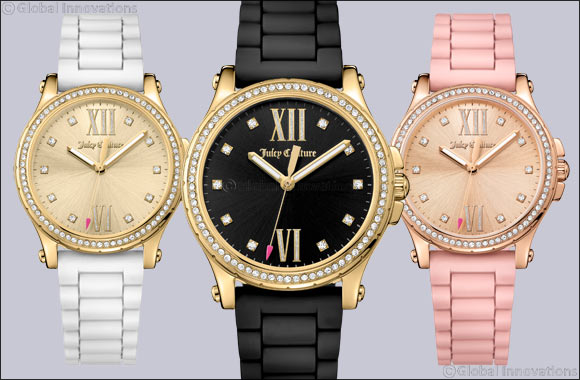 Dubai, UAE, August 3, 2017: Juicy Couture presents their latest Summer collections in Hollywood as the iconic fashion brand brings together style, elegance, and craftsmanship in its line of trendy and accessible jewelry watches.
Sport the latest fashion with the Hollywood watch – featuring a 34mm gold-toned and rose gold-toned stainless steel case with sparkling crystal bezel and crown protector. Black and gold sunray dial, detailed by 10 crystal markers and 2 crystal-accented Roman numeral markers, along with a sleek black, white and dusty rose silicone strap, add a glamorous touch to this sporty design.
The price for the watches are embedded in the image for reference.
The collections is available across Hour Choice stores in the UAE.