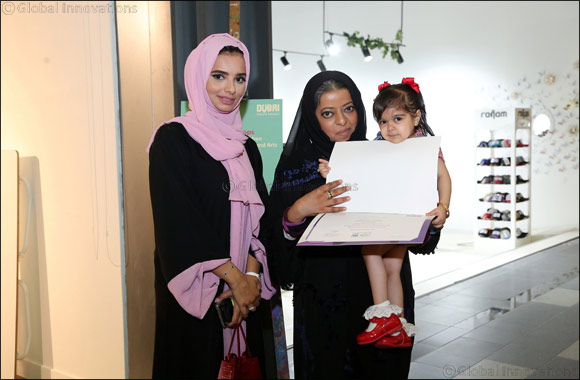 Honouring seven-year-old Mahra Al Shehi for her enthusiastic participation and inspiring journey with HH Sheikh Mohammed
Dubai, United Arab Emirates, 02 August 2017: Dubai Culture & Arts Authority (Dubai Culture), the Emirate's dedicated entity for culture, arts and heritage, has successfully concluded its 'SIKKA Around the City' creative workshops, which ran from 24th to 28th July and encouraged children to express themselves through artistic activities including '3D Doodling', 'Sculpture & Shadow' and 'Photograms.' For her enthusiastic participation and inspiring journey with His Highness Sheikh Mohammed bin Rashid Al Maktoum, Vice President and Prime Minister of the UAE and Ruler of Dubai, seven-year-old Mahra Al Shehi was honoured by the Authority with a certificate and gift from the events team.
Mahra innocently shot to fame when a video of her reciting a quote from His Highness Sheikh Mohammed went viral on YouTube, and following a royal visit from the Sheikh himself, she has continued to inspire a younger Emirati generation. Mahra's presence helped to boost participation at the 'SIKKA Around the City' workshops, where children were eager to meet their young hero, and she also participated with outstanding enthusiasm, creating an impressive soldier at the 'Sculpture & Shadow' session. Mahra was among 150 children, plus Dubai Culture employees and their kids, who attended the free workshops at City Walk.
Fatma Al Jallaf, Acting Events Manager at Dubai Culture, commented: "We are pleased that our workshops attracted such high participation, as one of our key aims was to reach as many children as possible in our ongoing efforts to encourage expression through artistic activities and promote art as a means of cultural enhancement. We are particularly delighted to be honouring Mahra Al Shehi, whose enthusiastic participation captured the spirit of the initiative and proved once again that Dubai is full of young, promising talent. One of Dubai Culture's key mandates is to nurture such talent, and our workshops were carefully designed to achieve just this."
Workshop participants were guided by a team of artists who have been expertly trained in creative teaching methodologies, ensuring that they enjoyed an enriching experience while engaging in hands-on art making activities during the summer break. At the '3D Doodling' workshop, children had fun using 3D pens to bring drawings to life by creating free form sculptures, at the 'Sculpture & Shadow' workshop they played with sculpting free-standing human figures and casting shadows, and at the 'Photograms' workshop they discovered a new approach to photography.
The 'SIKKA Around the City' initiative reflects Dubai Culture's commitment to supporting and empowering a new creative generation, and forms part of the Authority's extension of the 'SIKKA Art Fair' – the flagship event under the Dubai Art Season umbrella. The broadened programme aims to strengthen the cultural and creative fabric of Dubai by exposing new segments of the community to the joys of art.
Dubai Culture aims to enhance Dubai's cultural scene and draw attention to the Emirate's rich heritage with a variety of initiatives that take place throughout the year. The Authority's mandate is to build bridges of constructive dialogue between different civilisations and cultures through enriching initiatives that benefit the Emirate's citizens, residents and visitors