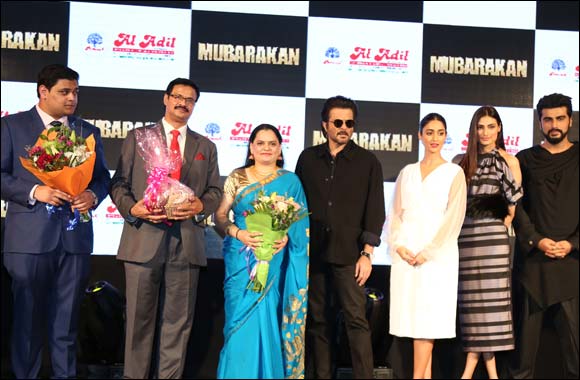 Dubai – Al Adil Online store, the latest venture of the Al Adil Group was inaugurated in the presence of Mubarakan Bollywood Movie Superstars Anil Kapoor, Arjun Kapoor, Ilena D'Cruz & Athiya Shetty in Dubai. Announcing this during the pre-launch event Dr. Dhananjay (Jay) Datar, Chairman & Managing Director Al Adil Trading Co LLC, said that this is a landmark occasion and the step towards meeting the needs of customers who prefer to shop online. "We are thankful to everyone who has helped us to strengthen our presence in this market. We acknowledge their support and we assure you that the online store is the step that we have taken to meet the expectations of our customers in a proactive manner. Outlining the future plans, Dr. Dhananjay (Jay) Datar, said that the Al Adil Online store is very much in tune with what the market wants. "Customers today have become digitally savvy. Nowadays anything and everything is bought online. We want to meet this need in the right manner and our online store is well equipped to meet the growing demand of people for authentic high quality Indian food stuff. With full confidence I can state that we will be able to extend the same level of support and high quality Indian foodstuff for customers who want to shop from wherever they want," he added.
The online store was inaugurated in the presence of Mubarakan Bollywood Movie Superstars Anil Kapoor, Arjun Kapoor, Ilena D'Cruz & Athiya Shetty in Dubai. "I am extremely happy to note that the new initiative is taking place in the presence of superstars who have established themselves. It is indeed a great privilege to have them in our midst. As the Chairman & Managing Director it is my responsibility to meet the market requirements in a strategic manner. Even though all Al Adil outlets are within the easy reach of our customers, we believe the online store will enhance customer convenience. It will also help us to tap the younger customers who are more tech savvy," added Dr. Dhananjay Datar.
"We have thoroughly studied the market and have taken all necessary steps to make shopping through our online store a hassle free experience. Apart from the ease of use, we have also put in place a system that enables error free delivery within a stipulated time frame. Our entire product range will be available online. The new website sees a vastly updated user experience allowing consumers to quickly and easily locate the products of their choice and purchase them online for immediate delivery within the UAE. Our online store is clean and functional, making the user experience as smooth as possible," pointed out Mr. Rishikesh Datar, Director.
According to Mrs. Vandana Datar, Finance Director and the pillar of support for Dr. Datar, it is the economy of scale that makes the Al Adil online shopping a better proposition for customers. "We have ensured that customers are provided with value for their money when they use our online portal. As the Finance Director I have ensured that the payment gateway is totally secure. We have also put in place a wide range of offers that will induce trial and make the online shopping a preferred choice for our regular customers. Moreover, Al Adil is on a major expansion spree. As part of our expansion plan, we will be opening more outlets within the next few months thereby enhancing our presence to 36 outlets across GCC," she pointed out.
The Bollywood Superstars also expressed their happiness in becoming an integral part of Al Adil Online store which is a landmark event.
Posted on www.godubai.com on 7/31/2017 @ 11:33:00 PM