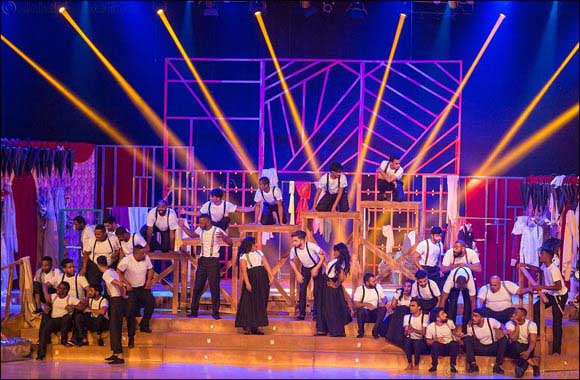 Part of Dubai Festival for Youth Theatre Programme 2017-2018
Dubai, United Arab Emirates, 31 July 2017: Dubai Culture & Arts Authority (Dubai Culture), the Emirate's dedicated entity for culture, arts and heritage, has announced the launch of a 'Best Script Award' as part of its programme for the Dubai Festival for Youth Theatre 2017. The competition will take place under a 'Year of Giving 2017' theme and see the winner's work produced during National Day celebrations; it is one of a series of new initiatives that have been introduced to enhance the eleventh edition of the festival.
The competition aims to attract young script writers and support them in their field by giving them a unique opportunity to produce their work, share it with the public, and meet local and regional members of the theatre industry.
Fatma Al Jallaf, Head of Dubai Festival for Youth Theatre and Acting Events Manager at Dubai Culture, commented: "The launch of this competition is aligned with our efforts to provide distinctive courses within the Dubai Festival for Youth Theatre programme, and to prepare young people to present high quality scripts during future editions of the festival. The 'Best Script Award' has been introduced following the recommendations made by the jury over the past ten years, which have focused on improving the participant's script writing skills."
Fatma added: "The 'Year of Giving' theme for this competition was chosen to support the government's 2017 directives to make the UAE a world leader in charitable and humanitarian action. We at Dubai Culture are inspired by this vision and aim to embrace it into the world of arts and culture. We expect the competition to be strong as a mixture of professional and amateur writers will be taking part."
Candidates wishing to participate in the competition must submit their scripts to the following email address before Thursday 31st August 2017.
This year, the festival programme includes a series of new initiatives, including 10 specialised academic workshops that cover various aspects of theatre and will be supervised by experts from the Higher Institute of Theatrical Arts in Cairo. During the workshops, which run from July to November, participants will be motivated by a range of new competitions including the 'Best Script Award.'
Dubai Culture is celebrating ten successful years of the festival, which has become a leading platform for nurturing the most promising theatre talents in the UAE and the Gulf region, including directors, theatre writers, actors, technical professionals and experts in costumes, lighting and make-up.
Dubai Culture aims to enhance Dubai's cultural scene and draw attention to the Emirate's rich heritage with a variety of initiatives that take place throughout the year. The Authority's mandate is to build bridges of constructive dialogue between different civilisations and cultures through enriching initiatives that benefit the Emirate's citizens, residents and visitors.