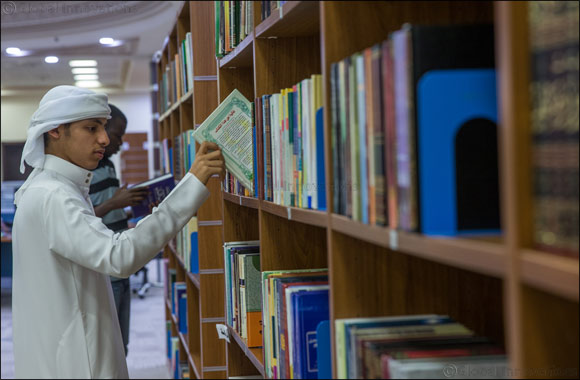 REGION'S YOUNGEST UNIVERSITY, AL QASIMIA, IS PART OF EMIRATE'S VISION TO PROMOTE TOLERANT TEACHINGS OF ISLAM
Dubai, UAE, July 31, 2017: As the UAE and the region mark the crowning of Sharjah as the World Book Capital 2019 by Unesco, celebrations at the region's youngest university, Al Qasimia, have been rather special. Al Qasimia Islamic University came into being as part of the Emirate's celebrations as the OIC's Islamic Culture Capital in 2014.
While Sharjah itself is an epitome of the celebration of knowledge, scholarship and the best of Islamic civilisation by His Highness Sheikh Dr Sultan bin Mohamed Al Qasimi, Supreme Council Member and Ruler of Sharjah, Al Qasimia University is perhaps the most powerful expression of his love of books.
Al Qasimia University Library stands witness to Sharjah's love of books and wholehearted support of HH the Ruler of Sharjah and President of Al Qasimia University, for the pursuit of knowledge and education. The library boasts more than 150,000 books which were gifted by HH Sheikh Dr Sultan bin Mohamed Al Qasimi. Books have always remained a defining cornerstone of Sharjah's journey of excellence.
Speaking to Sharjah Government Media Bureau, Dr Rashad Salem, Chancellor of Al Qasimia University, underscored the role played by His Highness the Ruler of Sharjah in honouring scholars and supporting knowledge and education throughout his long and illustrious rule.
Dr Salem said: "The entire world has recognised the efforts of His Highness the Ruler of Sharjah, patron of the educational renaissance and author, publisher and giver of books, by selecting Sharjah as the World Book Capital 2019. This selection, which makes us all immensely proud of the Emirate, marks the culmination of a long history of valuing books and realising the benefits of knowledge."
The Chancellor emphasised: 'As we all celebrate this extraordinary honour of Sharjah's selection as the World Book Capital 2019, we at Al Qasimia University are proud to have been a key part of the great project of His Highness the Ruler of Sharjah. This university itself demonstrates his extensive experience and knowledge of higher education and represents a gift from Sharjah to the world, introducing it to Islam and its tolerant and humane teachings and message'.
He added: "We are also proud that the entire Al Qasimia University Library is a special gift from His Highness the Ruler of Sharjah, which is an honour to the University and its students who come from all over the world."
Al Qasimia University Library had been inaugurated by HH Sheikh Dr Sultan bin Mohamed Al Qasimi following the formal opening of the University on April 26, 2014. It contains more than 150,000 books, which were the generous gift of His Highness Sheikh Dr Sultan bin Mohamed Al Qasimi and form the cornerstone of the University project.
Al Qasimia University Library is located to the north of the main campus. It has two main entrances, one for male students leading to the ground floor and another for female students leading to the upper floor of the building. Both the entrances lead to electronically protected gates aimed at preserving the property of the library and regulating entry and exit of visitors, who include the University students coming from diverse cultural backgrounds and researchers from outside the University.
The library generally aims to achieve the University's objective of forming a beacon of excellence in higher education and scientific research, seeking to reflect the authenticity of the Arab Islamic culture and to convey the legacy and appreciation of the people of Sharjah for knowledge.
Dr Khaled Abusen, Library Affairs Officer at Al Qasimia University, said: "The library is home to major references in Islamic Sharia, Arabic language and literature, education, psychology, communication sciences, law and Islamic and general culture, as well as historical books and the full collection of titles written by His Highness the Ruler of Sharjah in history, geography and culture.'
The library comprises specialised sections, including cataloguing and classification, provisioning, loaning and reference services, added Dr Abusen.
Contents of the library include various types of references, books, periodicals and magazines that cover the different subjects taught at the University, in addition to nurturing students' skills in scientific research and meeting their knowledge needs.
The library offers its services to students from within and outside Al Qasimia University and to researchers from around the world, given that the University itself is international and attends to different cultures and nationalities. It works to serve its visitors, answer all their queries, listen to their suggestions and meet their knowledge needs. And out of its awareness of the digital transformations sweeping student communities and their increasing use of social media and the internet in general, Al Qasimia University Library has been keen to be present across social networking sites as well.
Given the fact that Al Qasimia University attracts students from all over the world speaking languages other than Arabic, including English and French, among others, its library offers books on the general culture of Sharjah and UAE, as well as books on Islamic culture, literature, fiction and poetry. It also provides books aimed at assisting beginners in Arabic and English and accelerate their learning process.
Al Qasimia University Library is home to distinct collections of books and references, including 33,097 titles in Sharia and Islamic sciences, 11,171 in Arabic language sciences, 1895 in economics and business administration, 6,691 in Islamic history and civilisation, 779 in administration, 4,119 in education, 790 in media and 8016 in law.
Moreover, the library is keen to organise activities as part of its general cultural mission. It holds competitions to summarise books to encourage students to read and improve their summarising skills. The library also organises lectures on general topics, which are given by scholars in various fields.
Dr Rashad Salem said: "Al Qasimia University Library has been working on a number of future projects, including the implementation of integrated library management systems and digital library systems, to further develop the management of conservation, classification, archiving and research operations and in line with the latest developments in library sciences."
The library also works to set up a children's book centre, given that the gift of His Highness the Ruler of Sharjah comprised a large number of books for children and for students specialising in child education and psychology, which aligns with the Emirate's efforts as a Child Friendly City.
Al Qasimia University includes the colleges of Theology and Sharia, Law and Arabic Studies, Islamic Economic and Financial Sciences, Engineering and Islamic Architecture, and Law and Media.
Located at Sharjah's University City, Al Qasimia University seeks to equip its students with science, knowledge and the best practices of Islam as a way of life throughout history. It endeavors to develop its academic and research programs on a continuous basis in order to keep pace with the continuous and infinite realm of new knowledge, while maintaining sound Islamic values.