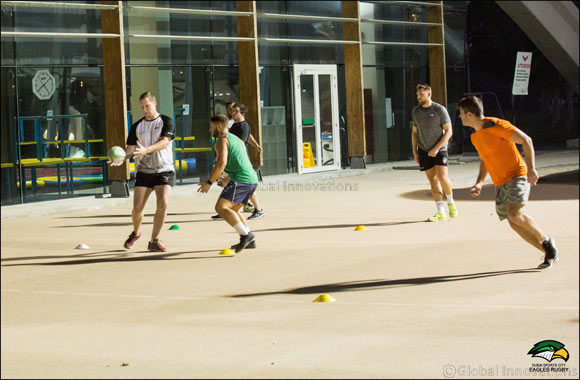 DSC Eagles will cater for both boys and girls at youth, junior and senior levels with twice-weekly training sessions, matches and more
DSC Eagles' training sessions take place every Monday and Wednesday evening at Dubai Sports City's Sports Park
DUBAI, 30 JULY 2017: Ahead of the 2017/18 rugby season Dubai Sports City has launched a brand new rugby team, the Dubai Sports City Eagles (DSC Eagles), a community-led rugby team which aims to bring people together through sport.
The DSC Eagles will have youth, junior and senior divisions and will be open to both boys and girls, men and women of all ages and abilities. The teams will play in the UAE Rugby Federation Leagues – from minis through to premiership level.
The team, which will be based at Dubai Sports City's Sports Park, will be overseen by UAE international, Sean Carey, while Pat Benson, a former Ireland u19 international, GB 7s and Worcester Warriors player, will be working with the team in an advisory capacity to ensure a smooth transition. Josh Ives, a UAE international player, will lead DSC Eagles' rugby development.
Dubai Sports City President, Khalid Al Zarooni said of the DSC Eagles' launch: "I am delighted that we are launching the DSC Eagles ahead of the new rugby season. Our aim for the DSC Eagles is to be the largest and most community-driven rugby club in the region, which echoes the community ethos of Dubai Sports City.
"The club will be at the heart of an already thriving, world-class sporting community driven by volunteers, members and will truly be a part of this community. I personally can't wait to see the team develop."
Sports Park Manager, Sean Carey, added: "We are really excited to be launching the Dubai Sports City Eagles this season. The name, Dubai Sports City Eagles, was chosen as eagles have great vision and are fearless; they soar high, have vitality and nurture their young – that's exactly what we believe will happen for this team.
"We have a clear direction for the team over the next three years from player pathways to winning competitions, but right now we are focused on pre-season training and getting the team ready for our inaugural match on 22nd September."
Members from all levels of the DSC Eagles will be able to benefit from twice-weekly training sessions at the DSC Eagles' home ground, Sports Park, as well as weekly gym sessions at the PowerBase Gym, a variety of home and away weekend matches and high quality coaching.
In addition, those signing up to the DSC Eagles will also be able to take advantage of added member benefits such as on-site physiotherapy sessions, access to the athletics track all year round and discounts on food and beverage at Dubai Sports City outlets, including Kickers Sports Bar and The Els Club's Big Easy Bar & Grill, as well as the use of a dedicated rugby bar.
DSC Eagles men's and women's senior training sessions will take place twice-weekly at Sports Park on Monday and Wednesday evenings from 7pm – 9pm. The youth programme will take place on Friday mornings throughout the season. Registration fees start from AED 1,400 per season for youth members and AED 2,200 for senior members.