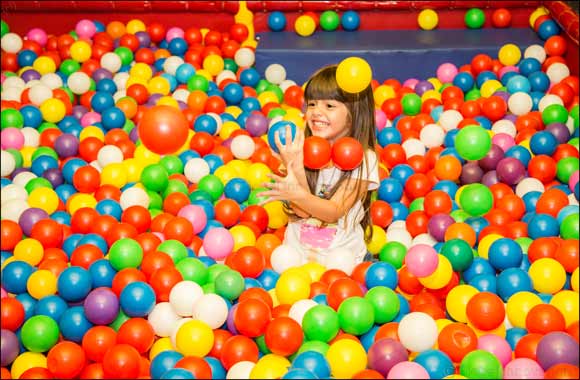 If you don't know Fun City as yet, your kids certainly do. And the huge, fun play areas, all across the city have an incredible membership deal available right now.
Perfectly suited for kiddies from age one, up to 12 years old, each Fun City outlet is one of the best places for both kids and adults to connect, play and get active.
Here are 10 reasons this is the best deal for you and your kids this summer...
1. Fun City has just launched an amazing Play Membership – 100 Days of Play!
This includes UNLIMITED access to the Play Zone and Fun and Learn centers at every Fun City, Fun Ville and Fun Works location in the UAE. This is ideal for the holidays as it's hot outdoors, and you want to keep the children entertained, so this membership is a welcome solution to cabin fever.
2. Mondays at Fun City will soon be every child's favorite day of the week!
Why? Because every Monday all kiddie rides, big rides and all blue swiper games at all Fun City outlets cost just AED 1, whoop!
3. The 'Fun n' Learn' areas are perfect for infants from zero to four
This supervised area for younger tots, provides an opportunity for mental and physical development and is ideally suited for the littlest ones. There's so much fun to be had, with play kitchen and dress ups, a gross-motor play area to help develop the tots, as well as arts and crafts and developmental zones. These fun games will help your children develop their motor skills and creativity while having an absolute blast.
4. The massive soft play area "Play Zone" is a fun, secure place for everyone to slide, run, climb, and jump
Children can run, climb, explore, and burn off energy in this safe and exciting adventure zone. There's a ball pit, ladders to climb, blocks to maneuver over, and so many things that children absolutely love!
5. The multi-functional venues have plenty of uses
Why not host a mothers' coffee morning? You can also organize schools trips at any of the venues, and all manner of social outings.
6. You can host birthdays at Fun City
Let the staff sort everything out, so you can relax knowing the kids are having the time of their lives. They'll sort the decorations, the entertainment and even the food so EVERYONE can have a great time (even the parents).
7. You get ALL THE SHUKRAN points
One of the best loyalty schemes in town, you will be entitled to amazing Shukran rewards points offers - every time you visit. (The more the better!) Which means YOU benefit as much as the kids do!
8. Kids can cash in on the POWERCARD packages which are an awesome value for money
Which means MORE fun for less, and they can explore the rides and attractions to their heart's content.
9. There are plenty of rides where in kids and parents can play together
So mum and dad don't have to miss out, you can hitch a ride on some of the fun and spend quality time together.
10. Children can redeem tickets while playing and exchange them for cool prizes
So they'll get something awesome to take home, to show for all their efforts at Fun City. There are toys, gadgets and accessories delight!