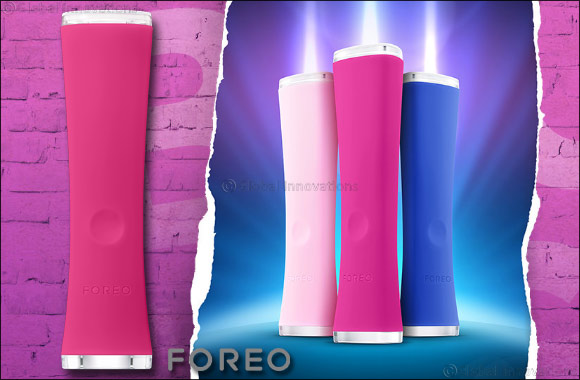 Dubai, UAE, July 27, 2017: Swedish beauty brand FOREO proudly steps into a new category of professional at-home beauty treatments with the launch of ESPADA™.
ESPADA™ combines ultra-powerful blue light with T-Sonic™ pulsations to tackle acne-causing bacteria deep beneath the skin's surface with surgical precision. When topical treatments fail and you absolutely need to see that blemish gone, ESPADA™ (meaning sword) is your number one weapon against acne.
It's the SOS treatment for when spots appear. Combining ultra-powerful light pulse technology with superior targeting to eliminate acne-causing bacteria at the source, ESPADA™ promises fast, long-lasting results for clear skin.
WHAT MAKES THE ESPADA™ REVOLUTIONARY?
Blue light acne pens have been around for some time, but they've never fully been embraced among the 650 million acne-sufferers worldwide. ESPADA™ is here to change that by delivering a smarter emergency solution for when blemishes appear. Now those affected by acne can experience clearer, brighter, more flawless skin with an at-home professional-level solution.
415NM OF BLUE LIGHT (LED)
Penetrates deep below the skin's surface to quickly yet noninvasively eliminate acne-causing bacteria at the source.
LIGHT PULSE TECHNOLOGY
T-Sonic™ pulsations activate on skin contact to help blue light diffuse deeper into pores for increased effectiveness while stimulating blood micro-circulation to facilitate skin renewal.
TARGETING LIGHT
Ensures device's Light Pulse Technology is directed with surgical precision to treat even the smallest signs of a breakout.
SKIN SENSOR-ACTIVATED
Initiates treatment on contact with skin, maximizing light where it's needed most, conserving battery life and ensuring safety for skin and eyes.
HYGIENIC & STYLISH DESIGN
The top of the device is coated in a special bacteria-resistant silicone, prohibiting the spread of acne-causing bacteria from one spot to another, while remaining ultra-smooth on sensitive acne-prone areas.
Soft and pleasant to hold, the body of the device is also quick-drying and nonporous to prevent bacteria buildup.
UNBOXING THE ESPADA™
Before using ESPADA™, here are some additional features to note:
Core essentials: USB-charging cable and storage pouch included in luxury gift box.
100% waterproof & rechargeable: easy to clean and 1 charge can provide up to 60 2-minute treatments.
Built-in timer: pulsates every 30 seconds to indicate the end of each acne-treating routine.
One-time cost: no additional or changeable cartridges - a smarter investment for clearer skin.
Long-term value: 2-year limited warranty and 10-year quality guarantee.
HOW TO USE
Cleanse your face to remove all dirt and makeup. The ESPADA™'s blue light is most effective on clean, unblocked skin.
Press the centre button once to activate the device and point it over the blemish using the targeted red light. The blue light will activate on contact with the skin.
Hold ESPADA on the blemish for 30 seconds, at which point it will pulse to let you know the routine is complete.
It's that simple. For mild acne, repeat the process twice. For more moderate acne, repeat three to four times.
CLINICALLY PROVEN
100% of ESPADATM users saw clearer skin
4 out of 5 saw a decrease in breakouts
90% reported healthier looking skin
* Research carried out by COSDERMA Testing Laboratories on 20 participants over 28 days.
ESPADA™ will be available from 23rd May 2017 in 3 vibrant colours: Magenta, Cobalt Blue and Pink.
For more info visit; www.foreo.com