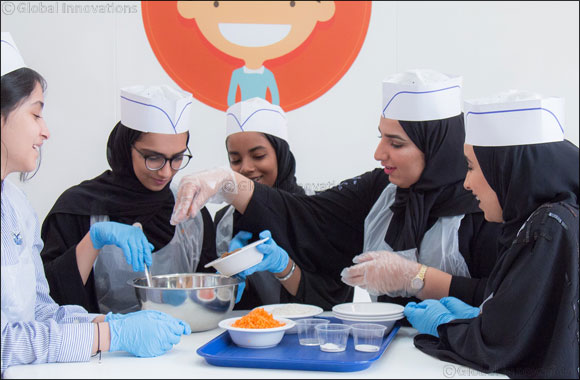 Daily workshops formulated to develop the life skills of its members
Sharjah, 26 July 2017: Young ladies in Sharjah have benefited from an array of workshops designed to enhance their life skills the daily workshops organised by Sajaya Young Ladies of Sharjah (Sajaya) - a subsidiary of the Rubu' Qarn Foundation for Creating Leaders and Innovators.
Sajaya has just recently concluded a July's daily training and entertainment workshops, with a focus on creativity, sports, health, in addition to various workshops.
Formulated for young ladies aged 13-18 years, Sajaya's workshops were hosted at it's branches in Sharjah, Kalba and Khor Fakkan. Featuring sessions on craftwork, exercise and wellbeing.
Sajaya's art workshops featured a spectrum of activities, including the 'Play-Doh Modelling' workshop, in which the girls honed their skills using the pliable modelling compound, and the 'Creative' workshop, where they designed and produced innovatively-designed bracelets and medals with dray clay. The programme's 'Glass Painting' workshop provided the girls with an opportunity to learn about painting on glass, while the 'Caricature' workshop encouraged self-expression through the creation of exaggerated self-portraits.
With a focus on physical activity and exercise, Sajaya's daily workshops included 'My Fitness' and 'Zumba,' the latter of which saw the girls learn how to enhance their fitness. The 'Skin Care' health workshop focussed on the best way to keep the girls skin in tip top condition, while the 'Detox Water' workshop showed them that what they put into their bodies influenced their wellbeing. The session taught them how to make natural healthy infused water recipes that help to rid the body of toxins.
In July, Sajaya established an institutional partnership with the Ministry of Climate Change & Environment, Sharjah Institute for Heritage, Sharjah Museum of Islamic Civilization, and Child Safety Campaign.
Sajaya Young Ladies of Sharjah is an organisation dedicated to developing the talents of girls aged 13-18 years in all creative spheres. Established in 2004 under the umbrella of Sharjah Children's Centres, it became an independent entity in 2012 following an administrative decree by Her Highness Sheikha Jawaher bint Mohammed Al Qasimi, wife of His Highness the Ruler of Sharjah, Chairperson of the Supreme Council for Family Affairs and Chairperson of the Rubu' Qarn Foundation.