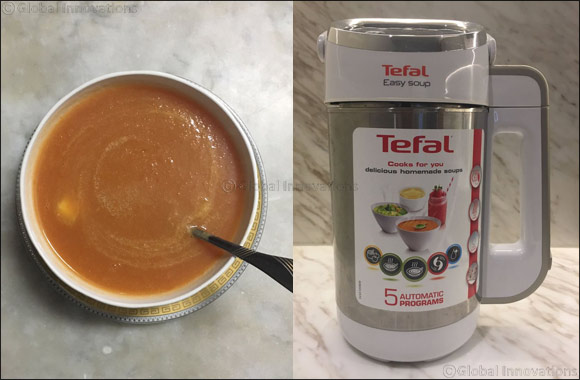 Tefal Soup Maker is one of my best investments!!!👌💚💚💚 I enjoy not only different kinds of hassle free homemade soups but also smoothies! 😋
Chunky or smooth soup is ready within 25 minutes, stays warm upto 2 hours! 👀
Most of my extended family members and friends got one after experiencing it at my place.... My daughter says I am their brand ambassador 😂😂😂
I mostly look out for more nutritious and healthy options that are low in calories and sodium.
With a soup maker at home I have full control over the amounts of vegetables and salt that goes in. Readymade soups or tinned soups have many preservatives and sugar that harm us.

I try to buy all organic vegetables. 🥗
My favourite soup recipe is:
Tomato Soup: 🍅🍅🍅
Ingredients;
4 large tomatoes
1 baby potato or small sweet potato
4-5 garlic pods.
1 small onion
8-9 fresh basil leaves
350ml of water
Salt as per taste
Black pepper
Butter if required.
One can play with the ingredients, the above list is for a rough idea..... Frankly 💁 Do whatever you want to do!!! 😎
Preparation : Wash the tomatoes chop into 4 pieces , peel the onion, garlic and potatoes. Put them in the soup maker along with water, basil leaves and salt. Start the soup maker select the type of soup you want, once you hear the beep it is ready to be seasoned and enjoy!!! 💚💚💚 YES.... unbelievable but true...for kids one can add cream and butter but I have just like that 😋😋😋 tastes awesome.

P.S. I wash is immediately after I empty it (before I sit and enjoy my soup). Hand wash!!! 😏
I do make smoothies too! Simple and easy. 🍹
One can get very innovative and creative with this soup maker. 🤔
I love this gadget, period! 😍