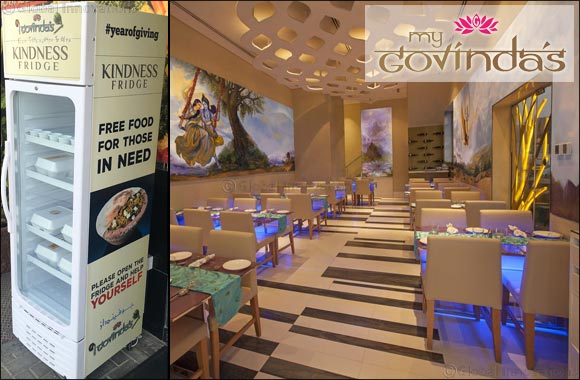 MyGovinda's, serves healthy holistic Indian food; that harmonizes the body, mind and soul. In conjunction with #the year of Giving; declared by UAE's President His Highness Sheikh Khalifa bin Zayed Al Nahyan; MyGovinda's came up with the Kindness Fridge initiative in Dubai.
The Kindness Fridge, is well stocked with wholesome food from the restaurant, fresh fruits and bottles of water; easily accessible to those in need in the area.
Inaugurated by founder Mahesh Advani, the initiative aims at the construction workers, laborers and unemployed; who require nourishing food and refreshment; but might not have the necessary means to buy meal at restaurants.
MyGovinda's is located in Umm Suqeim and Al Karama.
Dubai, United Arab Emirates, July 23, 2017: MYGOVINDA'S, a restaurant brand that serves healthy and holistic Indian food known to harmonize the body, mind and soul, presents its Kindness Fridge at its restaurants in Umm Suqeim and Al Karama. Inspired by the Year of Giving 2017 initiative, Mahesh Advani, the owner and founder of MyGovinda's, came up with this unique and altruistic concept.
The Kindness Fridge is aimed at construction workers, the working class and the unemployed; who require healthy food after a hard day of work, but might not have the means to purchase it in local restaurants. By storing freshly prepared wholesome lunch boxes, fresh fruits and water in a refrigerator outside the restaurant, with open-door policy, the Kindness Fridge aims to bridge this gap.
The objective of the Kindness Fridge, a concept fully funded by MyGovinda's, was to play a meaningful role in the community and extend its mission of 'health and happiness to all' to those in need. Through the modem of this fridge, the brand ensures that healthy food does not remain a privilege to certain sections of the society, since "Hunger is universal".
Mahesh Advani, Founder and Owner, MyGovinda's Restaurant, said, "The summers of Dubai beat down hard, especially on the people working long hours in the sun; trying to make ends meet and provide happy lives to their family. We were inspired by His Highness's insightful words on community upliftment, volunteerism and service for the year, and decided to give in our own little contribution with the Kindness Fridge. It's open to all, it's completely free, and the food is from our heart, out of the love and respect we have for all persons in these sectors, in our land of residence. Persons can access the fridge with their heads held high, and can interact with our usual patrons. We would like to shed light on this so that our community members know this concept exists, and are able to access it easily when in need."
While there only exist two self-funded Kindness Fridges by MyGovinda's, the restaurant is looking to increase the number of fridges in the future once the initiative kicks off, and can work with the community to provide more food and beverages through this medium to those in need.