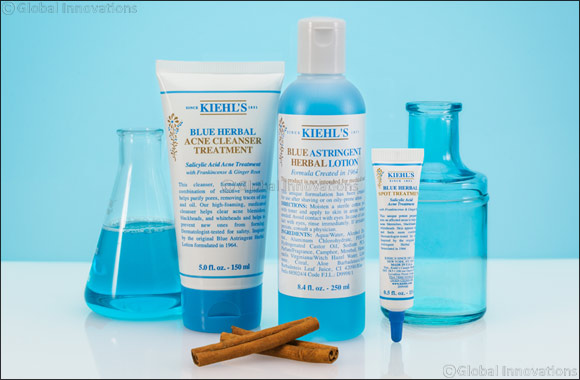 Enhanced Three Part Regimen Targeting Skin's Biggest Offender
Kiehl's has established acne-fighting artillery in their iconic Blue Herbal line of skincare products. Leveraging decades of skincare expertise and the celebrated Blue Astringent Herbal Lotion originally introduced in 1964, the three-piece collection includes Blue Herbal Blemish Cleanser Treatment and Blue Herbal Spot Treatment. While the universally recognized toner known affectionately to fans as 'the blue stuff' remains unchanged, both the cleanser and spot treatment feature innovative formulas with increased levels of botanical extracts to better combat oily and acne-prone skin.
Since its introduction in 1964, Kiehl's Blue Astringent has impressed customers with its wide range of uses, and has emerged as a worldwide medicine cabinet staple for nearly 50 years. The effective formula has even inspired many facial toners in the industry today. The multi-purpose herbal "lotion" can even double as a spot treatment for 'problem areas,' an all-over toning agent to remove excess dirt and help control surface oil.
With the iconic Blue Astringent as its anchor, it's no surprise that the three part Blue Herbal regimen is a respected first line of defense in the fight against acne. The simple cleanse, tone, and treat method is simple and effective.
CLEANSE, TONE, TREAT.
CLEANSE: Blue Herbal Blemish Cleanser Treatment
Gel Cleanser with Frankincense & Ginger Root
A high-foaming gel cleanser, formulated with a combination of highly-effective ingredients to help to purify pores and remove traces of dirt and oil. The non-drying cleanser, which is demonstrated to main the skin barrier, helps to treat and prevent blemishes, blackheads, and whiteheads. The herbal concoction features an increased level of botanical active ingredients Ginger root, Cinnamon bark, Frankincense bark, and Camphor which leave the skin feeling instantly cool and refreshed.
TONE: Blue Astringent Herbal Lotion
Original, "tried and true" oil-reducing Blue Herbal formula for nearly 50 years
A multi-purpose herbal lotion, with stimulating properties for oily and very oily/blemished skin. This preparation is frequently recommended as a toner. It may also be used by certain skin types as a spot treatment for blemish prone areas. Blue Astringent is also recommended for men - to be used either before or after shaving. For those who use electric razors, it may be used as a pre-shave preparation to remove excess oil that may cause the skin to stick to the razor. As an after-shave, it may be used to help prevent razor discomfort.
TREAT: Blue Herbal Spot Treatment
Concentrated Salicylic Acid Blemish Treatment
This expert formulation penetrates skin surface to specifically target acne lesions. The thick gel spot treatment spreads evenly into skin for easy application
both day and night. The formula features an increased level of botanical active ingredients Ginger root, Cinnamon bark, Frankincense bark, and Burnet root with the addition of Boldo leaf, Perlite, and Camphor, resulting in a unique and potent preparation with anti-microbial, oil reduction and soothing properties which
help clear the skin when applied on specific blemishes, blackheads and whiteheads. Camphor provides an instant cooling relief upon application. The formula has increased body for a more viscous texture, ideal for targeted applications.
Prices:
Blue Herbal Blemish Cleanser Treatment, 150mL – 100 AED
Blue Astringent Herbal Lotion, 250mL – 210 AED
Blue Herbal Spot Treatment, 15mL – 85 AED