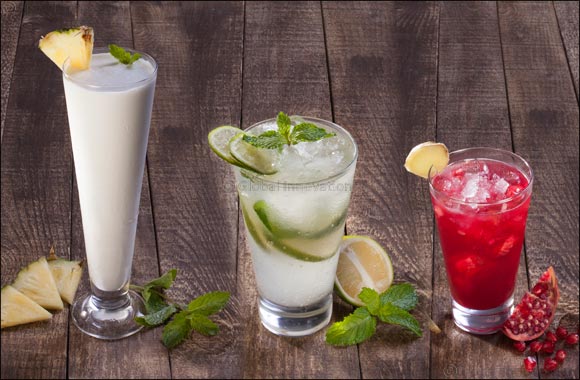 800 DEGREES PIZZERIA introduces its revamped drinks menu with some refreshing new drinks
From smoothies to cocktails, 800 DEGREES has all the recipes for a cool and breezy summer
800 DEGREES has branches in Burjuman, City Centre's Deira and Me'aisem, Mall of the Emirates, Dubai Parks and Resorts, and Dubai Marina Park Island
Dubai, United Arab Emirates, 20 July, 2017: 800 DEGREES PIZZERIA, a Neapolitan pizza concept from L.A., introduces an all-new drinks menu sure to keep customers cool for the summer. Choose from mocktails, smoothies, as well as lemonades, iced teas, flavored waters and a special Non-Alcoholic Malt ideal for the hot season from the complete menu by 800 DEGREES.
Made with specially sourced Napoli 00 flour and ingredients prepared freshly every morning, 800 DEGREES' traditional Neapolitan Pizzas are baked to perfection in an almond wood-fired oven at 800 Degrees Fahrenheit. The authentic Pizza Napoletana by 800 DEGREES is created with flour, salt, water and wild yeast for a fluffy crust and thin base. One can also choose a 95% gluten-free base and over 5 choices of sauces to spice up the traditional Neapolitan Pizza. Customizable from the base up, one can either choose from a set menu of specialty pizzas or create one's own pizza for a truly personal feel. Apart from pizzas, 800 DEGREES also hosts a pasta station, a variety of salads, sides, gelato, Italian desserts, coffees and special Italian drinks.
Banana Smoothie
A delightfully smooth mix of sweet banana and tangy strawberry blended with ice, the banana smoothie is the ideal cocktail for the season.
Price: AED 23
Mango Tango Smoothie
Bursting with flavors of fresh Mango, lime juice, and wild mint syrup, the Mango Tango Smoothie is a seasonal mix that is great for the kids.
Price: AED 23
Pina Colada Fruit Smoothie
A pina colada mix made with pineapple, coconut, milk and fresh cream.
Price: AED 23
Pomegranate Cooler
Combining fresh pomegranate with ginger and orange, this cooler adds just the right amount of sugar and spice to a flavorsome meal.
Price: AED 20
Shirley Temple
Another classic turned contemporary mocktail, the Shirley Temple is a concoction of grenadine and ginger ale with a hint of lemon and a dash of mint.
Price: AED 20
Virgin Mojito
A wonderful blend of fresh lime and mint bubbling with sweetness, the virgin mojito is a classic to enjoy on a hot summer day.
Price: AED 20
Manish Jeswani, the Managing Director of Eaters LLC and franchise rights owner of the US based 800 DEGREES PIZZERIA, said, "What better time than the summer to introduce our latest round-up of drinks – a list of all the classics we have known and loved all our lives. These drinks are all a refreshing twist from our menu, composed of the San Pellegrino flavored water cans and Bavaria non-alcoholic malts. We look forward to the response of our customers and hope to keep up our streak of adding refreshing new items to our menu at every season."
The drinks are available at all 800 DEGREES PIZZERIA outlets across Dubai.