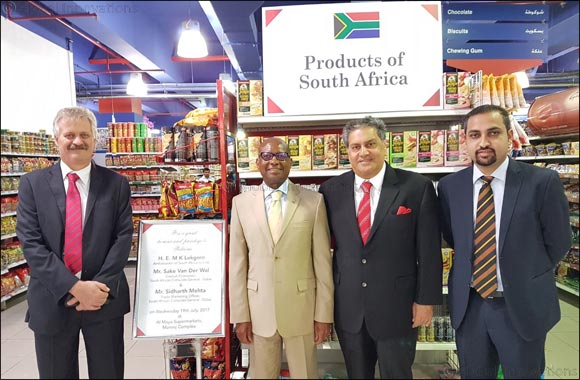 H.E. M.K. Lekgoro, Ambassador of South Africa visits Al Maya Supermarket
The Ambassador appreciated the Group's role in promoting South Africa's food products in the UAE.
Mr. Kamal Vachani, Group Director, Al Maya Group informed that South Africa's Ambassador to the UAE, H.E Mr. M K Lekgoro, visited the Al Maya Group's Supermarket at Murooj Complex, Dubai on Wednesday, 19th July.
Al Maya Group Director, Mr. Kamal Vachani, informed the Ambassador about the variety of products available from South Africa at the Al Maya Supermarkets.
During the visit of Ambassador of South Africa to Al Maya Supermarket, Mr Kamal Vachani informed the Ambassador about Al Maya's participation in AFRICA BIG 7 show, which was held in Johannesburg.
Al Maya Group, the UAE-based business conglomerate, has more than 50 supermarkets in the GCC countries in addition to other businesses.
Mr. Kamal Vachani thanked His Excellency for visiting Al Maya Supermarket.