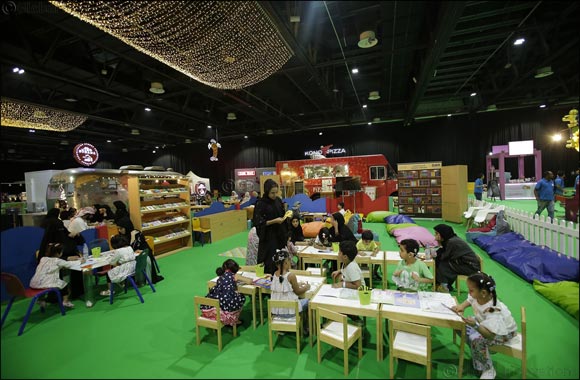 Dubai, United Arab Emirates, 18 July, 2017: Dubai Culture & Arts Authority (Dubai Culture), the Emirate's dedicated entity for culture, arts and heritage, has launched the second edition of its reading corner at Modhesh World – Dubai's ultimate indoor fun destination for families and kids. Following the success of last year's reading corner, the new edition features an expanded range of educational and entertainment activities for children alongside Dubai Summer Surprises at the Dubai World Trade Centre.
The reading corner allows children and their parents to read and spend quality time together throughout the festival, which began on 3rd July and will continue until 12th August 2017 from 11:00AM to 11:00PM daily.
Dubai Culture's 2016 installation generated a high level of attendance and the Authority is expecting an even bigger success for 2017, with an exciting range of additional workshops and activities added to this year's agenda. The library includes children's books in both Arabic and English and is hosting reading workshops and sessions as well as educational games – all of which are held under the supervision of specialists.
The project aims to promote a healthy reading habit across the community and younger generations, while also giving the public an opportunity to benefit from fun and educational activities that are designed to improve the participants' reading skills. The reading corner in Modhesh World is the ideal platform for Dubai Culture to reach to its target audience of children and young adults.
Dr. Hissa bin Masoud, Director of Dubai Public Library at Dubai Culture, commented: "This step is aligned with the Authority's ongoing support of the National Reading Strategy 2016-2026, which was launched by His Highness Sheikh Khalifa bin Zayed Al Nahyan, President of the UAE, and is supported by His Highness Sheikh Mohammed bin Rashid Al Maktoum, Vice President and Prime Minister of the UAE and Ruler of Dubai."
Dr. Hissa added: "With this initiative, we are giving families in Dubai and other emirates the ideal opportunity to nurture their children's reading skills while also enjoying quality time together during the summer season."
Modhesh World is a key feature of Dubai Summer Surprises. The festival has become an extremely popular destination for family entertainment during the Dubai summer season, attracting over 500,000 visitors each year.
Dubai Culture aims to enhance Dubai's cultural scene and draw attention to the Emirate's rich heritage with a variety of initiatives that take place throughout the year. This Authority's mandate is to build bridges of constructive dialogue between different civilisations and cultures through enriching initiatives that benefit the Emirate's citizens, residents and visitors