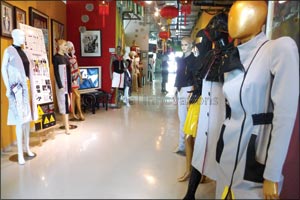 Forge an exciting international career in Fashion Marketing, Luxury Brand Management, Fashion Buying, Footwear, and Professional Fashion Makeup at ESMOD Dubai, the French Fashion Institute.
Dubai, UAE, July 18, 2017: Passionate about fashion? A love for clothing and accessories is one thing, but if you're someone who actually wants to work in the fashion industry, you'll probably know about it. You'll read the magazines, follow the fashion weeks, watch the bloggers and instagrammers, and your love of fashion will play a defining role of who you are. Yet working out a way of actually joining the fashion industry and making a career for yourself can be a little more challenging.
If you have the determination, the talent, and the willingness to do what it takes to learn the ropes and become successful, it's time to think of ways to gain exposure and experience in the fashion field and kick start your career in the industry that inspires you daily. That's where ESMOD Dubai steps in.
If you're ready to take the next step, below are five different routes offered by leading fashion institute ESMOD Dubai, the movers and shakers of the emerging Middle East fashion world, that you can consider enrolling in 2017. Each unique course offers different avenues to explore within the broad and ever evolving world of fashion; it is after all a billion dollar industry.
FASHION MARKETING
Start Date: 10th September 2017
Duration: 9 Months
Attendance: Sunday to Tuesday
Time: 9.30am - 1.30pm
With immense competition and numerous emerging fashion brands, it is crucial to know the right recipe of launching a new brand. This program will enlighten you with step by step SWOT analysis, planning, implementation, execution and launch plan evaluation of your fashion business. Fashion entrepreneurs will enjoy this dynamic course, learning about modern marketing techniques delivered by top professional experts in the field and start their fashion business.
This program is structured in complementary modules providing the deepening of different actions of fashion marketing, from the analysis of the fashion system to the study of marketing, communication techniques, from the detailed analysis of the different aspects of brand management and merchandising.
LUXURY BRAND MANAGEMENT
Start Date: 13th September 2017
Duration: 3 Months
Attendance: Wednesdays
Time: 6pm - 10pm
Become a brand guardian and sought-after within the international luxury houses. Students learn the necessary skills to successfully run operations in the fashion and luxury goods industry. The course provides an insight into the international luxury sector, including ready-to-wear, Haute Couture, Accessories, Watches, Jewelry and Perfumes. During the course students acquire knowledge of managing all aspects of a luxury brand, from product development process to price strategies.
FASHION BUYING
Start Date: 10th September 2017
Duration: 4 weeks
Attendance: Sunday & Tuesday
Time: 6pm - 10pm
Conducted by the fashion buyer of Prada and Valentino, an intensive short course giving an insight into the daily world of a fashion buyer, who will provide an insight to students on how to execute and develop an eye for the right buying process.
FOOTWEAR
Start Date: 11th September 2017
Duration: 3 Months
Attendance & Time:
Morning Session | 10am - 2pm, Wednesday & Thursday
Evening Session | 6pm - 10pm, Monday & Wednesday
This program will introduce students to the art of designing shoes and footwear through gaining a deep knowledge of trends, materials, components and technical construction taking into consideration the specificities of product components and technical constructions taking into consideration the specificities of product categories from commercial to high end footwear.
PROFESSIONAL FASHION MAKEUP
Start Date: 1oth September 2017
Duration: 2.5 Months
Attendance & Time:
Morning Session | 11am - 2pm, Wednesday & Thursday
Evening Session | 7am - 10pm, Sunday & Tuesday
In partnership with NYX Makeup Products, this course is the most effective training in the Middle East to make your mark in the professional makeup industry. Learn what it takes to succeed as an independent makeup artist or in a salon from the top makeup artists in the region. Students will be trained in beauty makeup, bridal makeup (European and local style), makeup for magazines, TV, photoshoots and fashion shows.