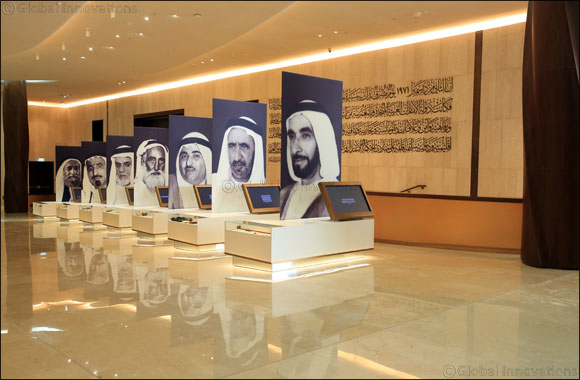 Dubai, United Arab Emirates, 18 July 2017: The Etihad Museum has been a very prestigious landmark in the UAE since its inspection and tells the story of the 1971 Union Agreement through the eyes of the Founding Fathers. The museum honours the Founding Fathers dedication, commitment and patriotism by showcasing their achievements and some of their private collections while inviting individuals from all walks of life to follow their shining example in everyday life.
The museum's story begins with the Founding Fathers display, which features majestic portraits of the seven rulers of the emirates: Sheikh Zayed bin Sultan Al Nahyan, Ruler of Abu Dhabi; Sheikh Rashid bin Saeed Al Maktoum, Ruler of Dubai; Sheikh Khalid bin Mohammed Al Qassimi, Ruler of Sharjah; Sheikh Rashid bin Humaid Al Nuaimi, Ruler of Ajman; Sheikh Ahmed bin Rashid Al Mualla, Ruler of Umm Al-Quwain; Sheikh Saqr bin Mohammed Al Qassimi, Ruler of Ras Al-Khaimah; and Sheikh Mohammed bin Hamad Al Sharqi, Ruler of Fujairah.
To enrich and attract visitors to this significant landmark, the portraits are complemented by interactive screens showcasing historical photos, videos and family trees that describe the Founding Fathers' noble contributions to the union and each ruler also has a display case dedicated to them. The cases offer visitors a valuable human insight into the lives of the Founding Fathers as they contain personal belongings that have never before been on display. These intimate objects were generously donated to the museum by their Highnesses the Crown Princes of the seven emirates of the UAE as part of the 'Let's Preserve Our Legacy' campaign launched by His Highness Sheikh Mohammed bin Rashid Al Maktoum, Vice President and Prime Minister of the UAE and Ruler of Dubai.
The Etihad Museum inspires visitors with the story of the most significant moment in the UAE's timeline – the birth of the country at Union House which was on the 2nd December 19871. This moment would not have been possible without the dedication of the Founding Fathers.
By introducing visitors to each of the rulers in a meaningful way, the museum ensures that their legacy is celebrated to enrich our present and shape our bright future.