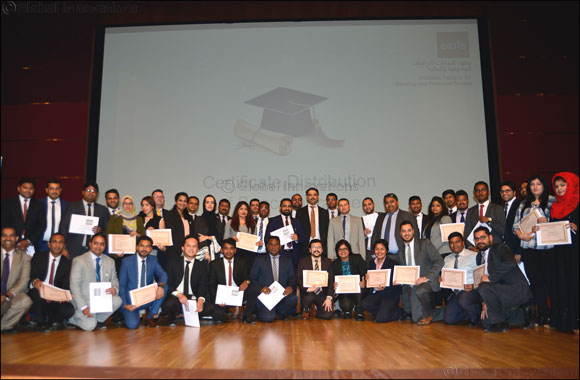 Course Witnesses Participation of 160 Professionals from Union National Bank and RAKBANK
Dubai-UAE: 17 July, 2017: The Emirates Institute for Banking and Financial Studies (EIBFS), a regional leader in banking and finance education and training, witnessed the graduation of the first batch of participants of its banking insurance training program. The 160 outgoing students included 85 employees of Union National Bank and 75 employees of RAKBANK.
The specialized insurance training program focuses on bancassurance, or insurance in financial services, and aligns with the federal government's goals to enhance the qualifications of UAE nationals and improve productivity in the insurance sector.
Bancassurance enables insurance companies to use the bank's channels to sell their products. EIBFS' program covers topics such as bank insurance models (BIM) and products, savings and investment products, retirement plans, customer best practices, and ethical considerations for financial advisors, and it awards graduates with a certificate in Banking Insurance.
Jamal Al Jassmi, General Manager of EIBFS, said: "The program reiterates our commitment to the vision of our wise leadership in developing UAE nationals and encouraging professional capacity building in fields such as banking and insurance. At EIBFS, we are continuously growing and attracting more participants owing to the diversity of our training programs, our educational workshops, and our partnerships with reputed global academic institutions."
Deepak Ahuja, RAKBANK's Director of Wealth Management, Mortgages and Bancassurance, said: "RAKBANK is committed to ensuring the sustained career growth and development of its employees across all the bank's business lines. We are delighted to collaborate with the Emirates Institute for Banking and Financial Studies (EIBFS) through tailor-made training courses that will further enhance the skills and capabilities of our Sales team in the Bancassurance unit. We always encourage our employees to participate in world class training programs, such as the EIBFS training courses, because we believe that the success of the organization relies on the accomplishments of the individuals who flourish within it."
Mr. Ali Khaled Al Hashimi, Senior Vice President and head of human resources and organization development from Union National Bank, said: "We are among the first banks in the UAE to have its entire banking insurance team certified by the EIBFS. The program received great interest from our participants and successfully concluded with their graduation."
He added: "In line with our strategic vision to encourage professional development and build team capacities, we have utilized this program to enable employees to gain comprehensive knowledge on all financial asset classes and markets as well as an in-depth understanding of the insurance sector."