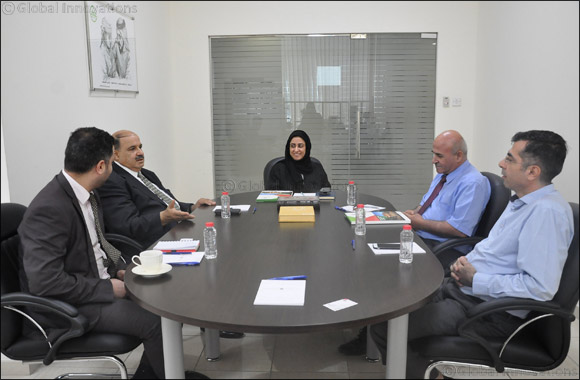 Abu Dhabi-UAE: 17 July, 2017: A delegation from Abu Dhabi University's Dubai Campus (ADU) recently met with representatives from the Welfare & Rehabilitation for People of Determination Department at the Ministry of Community Development to discuss opportunities for collaboration in identifying and developing the talents of people with special needs on par with international standards in education and vocational training.
During the visit, the delegation headed by Dr. Ibrahim Sidawi, Director of ADU's Dubai campus, offered insights into the University's diverse portfolio of locally and internationally accredited bachelor, master and doctoral programs. He explained that the University's postgraduate programs specializing in education such as the Master of Science in Special Education, the Master of Education in Educational Leadership, as well as the Postgraduate Diploma in Teaching were tailored to match the needs of working professionals in vital education fields, especially those employed by the Ministry of Community Development and engaged in domains that cater to the needs of people of determination such as autism and early integration.
Wafa Hamad Bin Sulaiman, Director of Welfare & Rehabilitation for People of Determination Department at the Ministry of Community Development, reiterated the need to customize facilities and services at universities to be user-friendly for people of determination (formerly known as people with special needs), in order to grant them easy access and facilitate their efficient integration into society. Bin Sulaiman pointed out that this corresponds with international standards and the recently launched "National Strategy for Empowering People with Disabilities".
Highlighting the critical need for developing academic programs that cater to the educational requirements of people of determination, Bin Sulaiman explained that ensuring the availability and accessibility of academic materials to people of determination will encourage them to enroll and pursue their higher education in universities and higher education institutions across the UAE, which is a key priority for the department, in accordance with the federal law concerning the rights of people with special needs.
The meeting concluded with both parties reiterating their commitment to ensuring the integration and engagement of people of determination, while utilizing their potential as effective members of their respective communities. As part of this continued focus, a concerted effort will be made to highlight ADU's academic programs at centers specialized in empowering people of determination. In addition, ADU and the Ministry of Community Development will jointly work towards launching research projects, academic events and scientific conferences that underline the importance of empowering people of determination through improving the services and programs provided to them.
The Ministry of Community Development and Abu Dhabi University also recently signed a Memorandum of Understanding to design postgraduate diploma programs specialized in autism and early engagement for Emirati teachers dedicated to working in related education that caters to this special category of our community.