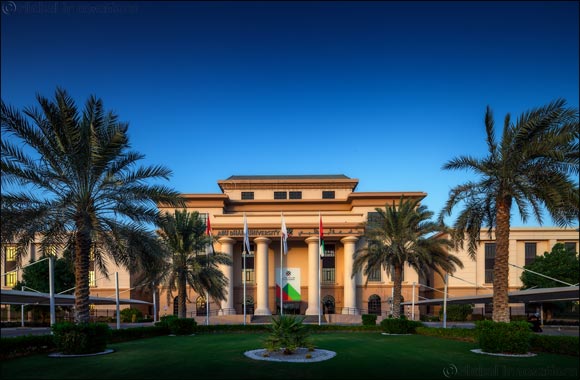 1,200 students benefit from AED20 million in scholarships and financial aid from Abu Dhabi University this academic year
University earmarks around AED12 million following announcement of UAE Year of Giving 2017
Bin Harmal: "Scholarships and financial aid reflect ADU's strategy and belief in corporate social responsibility and national duty"
Abu Dhabi-UAE: 11 July, 2017: Throughout the academic year 2016 – 2017, Abu Dhabi University has offered more than AED20 million in scholarships and financial aid to around 1,200 academically gifted and financially challenged students. ADU had already earmarked AED12 million for scholarships and financial aid at the beginning of the year to coincide with the announcement of the UAE Year of Giving, bringing the total volume of financial aid and scholarships granted by the University to more than AED136 million since its inception in 2003.
His Excellency Ali Saeed Bin Harmal Al Dhaheri, Chairman of Abu Dhabi University's Executive Board, said: "The increase in scholarship and financial aid allotment is part of 'ADU's Year of Giving Strategy 2017' and reflects our commitment to the directives of the UAE President His Highness Sheikh Khalifa bin Zayed Al Nahyan, who declared 2017 as the 'Year of Giving'. Our efforts also align with the Abu Dhabi Economic Vision 2030 that aims to build a knowledge economy, establish foundations of scientific research, and provide world-class education to nurture talent that can lead vital sectors in the future."
He added: "This strategy reinforces ADU's commitment to providing opportunities to financially challenged students and academically outstanding students to study in any of the undergraduate and postgraduate programs at the University's branches in Abu Dhabi, Dubai and Al Ain. This is part of our belief in corporate social responsibility. We consider it an important national duty to open up more opportunities for students looking to continue their academic studies and pursue a professional career, enabling them to serve as active contributors to their societies while also supporting comprehensive sustainable development in the UAE.
"Throughout the years, our scholarship and financial aid programs have contributed to creating a stimulating learning environment for students who have benefited from the various scientific disciplines offered by the University, enabling them to continue their studies and contribute to the cultural movement that our country witnesses in all fields."
The scholarships offered by Abu Dhabi University are divided into five categories: His Highness Sheikh Hamdan Bin Zayed Scholarship, Chairman's Scholarship, University Scholarship, Academic Scholarship and Athletic Scholarship, in addition to the financial aid program, postgraduate merit-based scholarships, and ADU's alumni scholarships. A specialized committee will review and assess students' applications until August 15thto identify and select those eligible for scholarships or financial aid.
Abu Dhabi University has already announced its intention to open a new campus in Dubai Knowledge Park to offer graduate programs and contribute to the preparation of enabled leaders in their fields. The Dubai Knowledge Park campus will complement the offerings of the university's branches in both Abu Dhabi and Al Ain that collectively host more than 7,000 students from 70 nationalities distributed over 44 bachelor, master and doctorate programs, all of which are locally and internationally accredited.