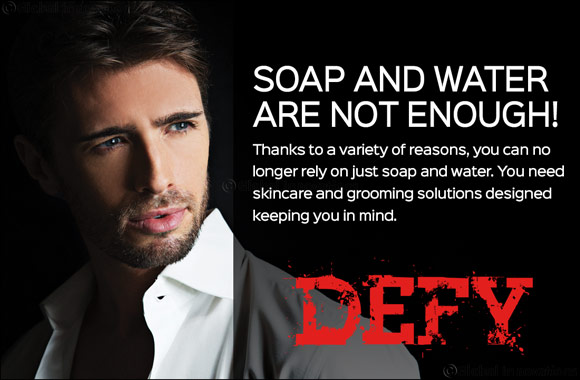 QNET's DEFY skincare range is here to step up your alpha male ritual
Dubai, United Arab Emirates, July 11 2017: What makes a man an alpha male these days? A sports car? A salary with multiple zeroes? All of these are incomplete without a clean visage. In recent times, men have become more conscious of the importance of practising a good skincare regime. This can be credited to the women in their lives or to dermatologists worldwide who in many ways educate the masses of the fact that skincare matters!
Prominent Asian direct selling company, QNET offers different lifestyle enhancing products one of which is the multifunctional DEFY skincare range. It includes DEFY Dirt Fighter, a cleanser that mildly exfoliates and acts as a shaving foam; and the DEFY Youth Tonic, a revolutionary wrinkle-reducing and anti-ageing serum, a moisturiser, and an aftershave rolled into one.
Men typically have larger pores on the face which makes them more prone to breakouts and clogged pores. They usually do not use any type of translucent powder that absorbs excess oil like women do. They also spend more time out in the humid temperatures of summer, and hence are likely to have a myriad of skin issues.
Sunny Shaper, International Skincare Expert says, "No matter how old you are, you can benefit from developing a good skincare routine. Why? Because it will keep your skin looking better, fresher, and younger."
So, how will you take care of your skin to maintain a healthy glow? Don't sweat it – Sunny Shaper explains some of the tips that you can follow and make into an effective summer skincare routine.
Men's skin is naturally oilier. Cleanse your face twice a day using DEFY Dirt Fighter to remove gunk and dirt. It is enriched with NIVRO-P which forms a protective layer over your skin and shields it from sun damage.
Pollution and irregular diet can cause havoc in your skin cells. Through regular use of DEFY's Dirt Fighter, your skin cells receive the necessary boost to delay the onset of premature ageing.
Once you hit 30, you will notice changes in your skin! It starts to become rough, has more visible lines, and starts to sag. Use DEFY Youth Tonic, the revolutionary formula that defies old age and restores the skin's youthfulness. This anti-ageing serum is loaded with TRI-GENICS, a unique combination of three powerful peptides: Argireline, a powerful anti-wrinkle peptide and a safe alternative to Botox, X50 Myocept, a cosmetic delivery system that helps erase wrinkles and reduces muscle contraction, and Silanetriol and Hyaluronic Acid, active ingredients that help hydrate skin, stimulate collagen, and enhance the skin's firmness.
A good skincare routine goes hand in hand with a good diet. As the temperature soars, make sure to include more green leafy vegetables and fruits in your daily diet. Consume 6-10 glasses of water and fresh fruit juices or fruit-infused water.
Regular exercise in the form of swimming, yoga or just a 30-minute run daily will help release toxins from the body to reveal a natural and healthy glowing skin.