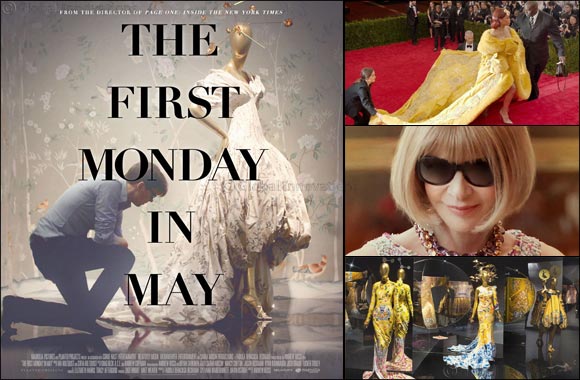 Andrew Rossi's film gives the audience an inside look at the infamous Met Gala
Dubai, 09 July 2017: The independent cinema initiative, DIFF365@VOX powered by du has revealed the latest addition to its global line-up, Andrew Rossi's non-fiction, "The First Monday in May". After a peak into Egyptian cinema through "Ali, the Goat, and Ibrahim", the initiative travel halfway around the globe to urban hub New York City. Showcasing a unique collide of art, fashion, commerce and celebrity, Rossi takes audiences behind the elite event in early May at New York's Metropolitan Museum of Art, commonly referred to as the Met Gala.
Known for his publishing prowess in his feature film "Page One: Inside the New York Times", Rossi's sharp gaze focuses on the 2015 edition of the Met Gala. Themed each year, the 2015 Gala used exhibition China: Through the Looking Glass, by curator Andrew Bolton, to spark creativity and cultural insight of the Galas elite attendees, but the dazzling glamour does not linger in this fast-paced documentary. Rossi takes audiences back in time and follows hard work done by the Met, its curators, top fashion advisors such as Vogue editor-in-chief Anna Wintour and countless others to meticulously and flawless execute one of the fashion world's most sought after events.
"The First Monday in May" made its premiere at Tribeca Film Festival Film earning praise for the access and insights it gives audiences into the annual lavish fundraiser and critical acclaim for Anna Wintour and her work as adviser to Bolton.
"The First Monday in May" is exclusive to DIFF 365@VOX and will screen at the dedicated theatre (cinema 9) at VOX Cinemas, Mall of the Emirates in Dubai from July 13th until July 27th 2017. Tickets are available online at the VOX website uae.voxcinemas.com and at the box office at VOX Cinemas Mall of the Emirates.