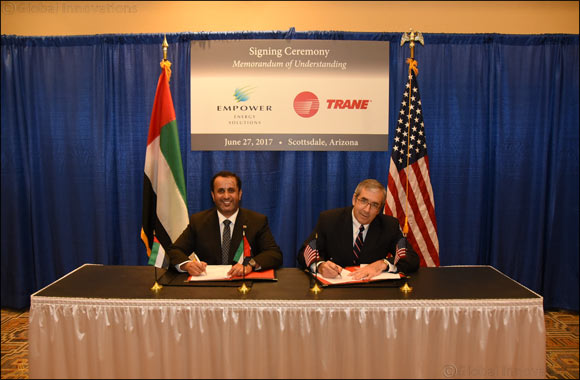 with total RT of 200,000 at the end of the IDEA Annual Conference 2017 in the USA
"New line of chillers is highly efficient and eco-friendly," says Empower Chief
Dubai, UAE, 9th July 2017: Emirates Central Cooling Systems Corporation (EMPOWER), the world's largest district cooling services provider, has announced a partnership with Trane Commercial for purchase of new chillers for the company. The agreement is considered the biggest deal in the district cooling industry worldwide and was signed at the end of the IDEA Annual Conference&Tradeshow 2017 held in Arizona, USA.
In accordance with the agreement, Trane Commercial will supply Empower with 30 advanced, eco-friendly chillers, with total RT of 100,000. By Virtue of the deal, Empower has the right to buy additional 30 chillers with a total RT of 100,000 in the future, which sets this agreement as the biggest in the district cooling industry worldwide.
"We are excited to partner with Trane Commercial for our new line of chillers, which will serve as an important part of Empower's advanced assets. These new chillers will have a significant role in supporting the company's growth, in accordance with the increasing demand for district cooling solutions now and in the future as a result of our global leadership position in the industry and our customers' trust in our qualitative services and costs," said Ahmad Bin Shafar, CEO of Empower.
"Trane is committed to delivering innovative, energy efficient products and services to help organizations lower their environmental impact and achieve sustainability targets," said Dave Regnery, president of Trane Commercial for North America, Europe, Middle East and Africa. "We are excited to work with Empower, the world's largest district cooling services provider, to drive toward their carbon emission reduction goals with the use of next-generation refrigerants that deliver advanced efficiency with a near-zero global warming potential (GWP). This business partnership for highly eco-friendly chillers with Empower stands to make a significant and positive environmental impact. "
Empower has recently announced significant growth in its business. It was noted that around 920 buildings and facilitiesare using Empower's district cooling solutions towards the end of 2016. The company boasts a portfolio of morethan 65,000 clientsand operates69 cooling plants across major locations in Dubai. Itstransmission pipeline has crossed 236 km.
"One of the key features of the new chillers is that they follow highest international standards of environmental excellence and use advanced ecofriendly gas.AtEmpower, quality is at the heart of our deals and partnerships, with a special focus on advanced and eco-friendly technologies that driveus close to our mission to reduce carbon emissionsand water and energy consumption by providing efficient and eco-friendly cooling solutions," added Ahmad Bin Shafar.
Empower will use the new chillers in its projects in "Tecom C", Dubai World trade Centre Residences, Jumeirah Beach Hotel, and International Media Production Zone (IMPZ).
"Being the world's largest district cooling services provider makes us very proud, and brings us a great responsibility at the same time, to keep and enhance the quality of the services provided to our customers. Taking in consideration that the district cooling industry still has a lot of potential for future growth, the responsibility is even greater. It is our responsibility as a leading UAE company with global outreach to lead the change toward this serviceall over the world and in the GCC in particular. In this regard, we follow the highest standards of excellence, quality, and efficiency when we choose the suppliers which support the company's increasing demands. The agreement announced today with Trane Commerical meets Empower'scurrent and near-future needs of chillers and guarantees our services' sustainability and improvement satisfying our customers' and partners'expectations at all times," concluded Ahmad Bin Shafar.
Empower currently operates more than 1.250 Million RT, providing environmentally responsible district cooling services to large-scale real estate developments such as Jumeirah Group, Business Bay, Jumeirah Beach Residence, Dubai International Financial Centre, Palm Jumeirah, Jumeirah Lake Towers, Ibn Battuta Mall, Discovery Gardens, Dubai Healthcare City, Dubai World trade Centre Residences, Dubai Design District, among others.