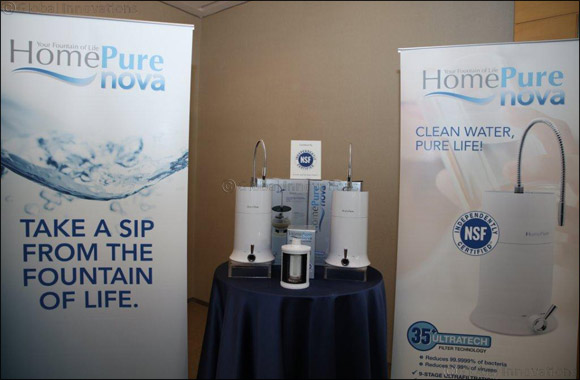 Same world-class quality, design and technology, only made even better with NINE stages of filtration and 35+ UltraTech Filter Technology
QNET is committed to providing safe drinking water with its NSF certified HomePure Filtration Systems
Dubai, United Arab Emirates, July 8th, 2017: Access to clean drinking water is a basic human right and prominent Asian direct selling company QNET pledges to continue its efforts to provide clean, healthy, and great tasting drinking water through HomePure, the NSF-certified home water filtration systems.
At a media roundtable held at the Shangri La Hotel in Dubai, HomePure shed light on taking the essential steps towards water cleanliness and the importance of having water filtration systems at home. The Managing Director of NSF Middle East Mr. Christian Kurdy discussed the NSF's perspective on water safety and Hygiene, clean and safe water as a key to global development, consequences of unsafe drinking water, and the NSF/ANSI 401 which is the newest NSF certificate given to HomePure for Emerging Compounds Reduction.
"Attaining the NSF International certification means that the product can be trusted as it has undergone several tests. HomePure is certified by NSF which means that its claim about producing fresh clean water is true. The new HomePure Nova integrates 35+ UltraTech Filter Technology, which NINE-stage filtration to give you clean and safe drinking water," stated Kurdy.
The HomePure Nova has received the NSF/ANSI 401 certification which means the filter has the ability to reduce emerging contaminants like some prescription OTC drugs, flame retardants, detergents, new types of pesticides and herbicides. While not a public health issue, the contaminants covered in NSF/ANSI 401 have been detected in drinking water supplies at trace levels and can affect some consumers' perception of drinking water quality. In fact, an independent survey conducted on behalf of NSF International indicated that 63 percent of Americans are concerned about pharmaceuticals and other contaminants in their drinking water. A big majority of the world's population's access to clean drinking water is under threat due to the intrusion of saline acids, salts, and toxic wastes into natural water resources.
HomePure filters have always been best-in-class for household use because they use ultrafiltration(UF) as the primary medhod of filtration. This is made better in HomePure Nova, which now uses the new 35+ UltraTech Filter Technology, means it reduces 99.9999% of bacteria and 99.99% of viruses, the maximum reduction rate tested and allowed by technical test reports. It also includes Microban Antibacterial Technology, which is built-in to HomePure Nova's water tank, head adapter and LPDE hose to help prevent the growth of bacteria, mould, and mildew to ensure the best performance of the filtration system.
The well-known HomePure water filtration systems are especially designed to address drinking water issues. A reliable filtration system installed in your home is one important way to proactively monitor and ensure the quality and safety of your drinking water. Although water filtration technology for households now prevalently exists, many people are unaware of the working principle behind the various filtration systems. The first thing to keep in mind is that a filtration method cannot find its application in a single filtration stage. Only a good complete system can produce high-quality, safe drinking water and this is the very reason the HomePure Nova was created.