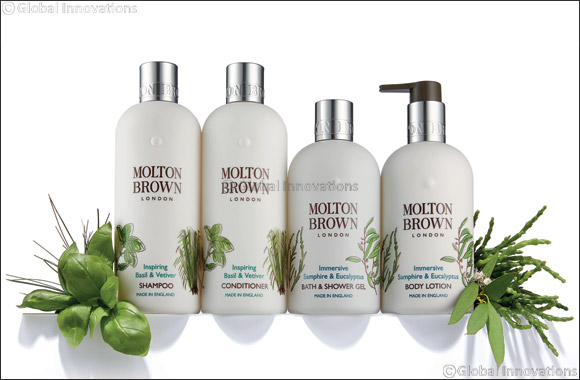 LONDON VIA THE HIGH SEAS
Luxurious. Immersive. Inspiring.
Molton Brown, London's fragrance experts, are proud to announce their summer limited edition, The Seabourn Collection, in collaboration with award-winning luxury cruise line, Seabourn. Step aboard on a quest to discover the world's hidden treasures. Molton Brown's voyage with Seabourn began 14 years ago; sharing the same dedication to sophistication and exclusivity, they embarked on a partnership supplying luxury amenities to the highly acclaimed cruise line. Seabourn is famed for their intimate small ships that drop anchor at the most secluded ports beyond the reach of larger vessels. Molton Brown's exploratory nature of sourcing only the finest ingredients across the world perfectly complements Seabourn's spirit of discovering the oceans' secret gems.
This year, for the first time, Molton Brown have created two completely bespoke fragrances that reflect the cruise line's unparalleled luxurious guest experience. Usually available exclusively for Seabourn's on-board guests, they will be offered in Molton Brown stores for a limited time. The beautiful collection is composed of ingredients inspired by Seabourn's very own signature cruise destinations.
Celebrated British coast-based illustrator Angela McKay has hand drawn the fragrance's botanical ingredients on the bottles, adding a tailored, elegant touch.
Immersive Samphire & Eucalyptus Bath & Body Collection
Samphire picked from the French Atlantic Coast and eucalyptus sourced from Beijing.
"A revitalising and very fresh aroma ideal for bathing, where samphire and marine notes are reminiscent of the sea and ultimately, of the Seabourn experience." Philippe Bousseton, Master Perfumer, Takasago
Luxurious. Seafaring. Immersive.
Immersive Samphire & Eucalyptus Bath & Shower Gel 300ml – 130 AED – 129 QAR – 140 SAR
Immersive Samphire & Eucalyptus Body Lotion 300ml – 170 AED – 168 QAR – 180 SAR
Inspiring Basil & Vetiver Hair Care Collection
Herbaceous basil from Vietnam and vetiver found in Haiti.
"Very sophisticated, rounded and clean thanks to aromatic notes of basil and vetiver, perfect for hair care."
Heidrun Harder, Master Perfumer, Fragrance Resources
Aromatic. Revitalising. Inspiring.
Inspiring Basil & Vetiver Shampoo 300ml – 115 AED – 114 QAR – 125 SAR
Inspiring Basil & Vetiver Conditioner 300ml – 115 AED – 114 QAR – 125 SAR
#SailWithSeabourn