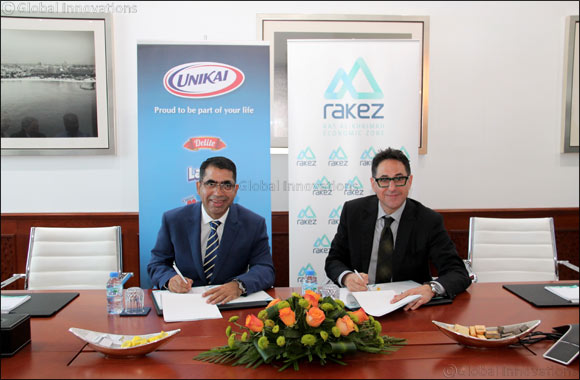 Ras Al Khaimah, 5 July 2017: UNIKAI FOODS P.J.S.C., one of the largest Fast Moving Consumer Goods (FMCG) conglomerates in the Middle East and North Africa region, has signed an agreement on 3 July 2017 with Ras Al Khaimah Economic Zone (RAKEZ) to establish its largest storage and distribution facility in the northern emirates. The signing ceremony was held yesterday in RAKEZ's headquarters with Neeraj Vohra representing UNIKAI FOODS P.J.S.C, and Ramy Jallad representing RAKEZ.
UNIKAI FOODS P.J.S.C's CEO, Neeraj Vohra, said: "We are very glad to have taken this important step of establishing our latest facility in the fast-growing emirate of Ras Al Khaimah, providing us with a great opportunity to boost our presence even further in the northern emirates. The construction of the new facility will commence this year and we are truly proud to be working in conjunction with RAKEZ, which is among the leading economic zones in the region".
Group CEO of RAKEZ, RAK Free Trade Zone and RAK Investment Authority, Ramy Jallad said: "I'd like to officially welcome UNIKAI FOODS P.J.S.C on-board to set up its distribution hub in the northern emirate, specifically in RAKEZ. We continuously provide excellent services for businesses of all sizes to expand their operations in a cost-effective manner, hence, we are proud that UNIKAI FOODS P.J.S.C partnered with us for its next phase of development".
"Not only that UNIKAI FOODS P.J.S.C is a positive addition to our over 13,000 companies, the company setting up its new distribution facility in one of our specialised zones is a testament that we are trusted by giant conglomerates for our cost-effectiveness, strategic location, efficient logistic hubs, and our simplified business set-up procedures," Jallad added.
UNIKAI FOODS P.J.S.C is a renowned household brand in the region with a 40-year heritage of providing consumers with great tasting products. In the last four decades, UNIKAI has grown by leaps and bounds. Today, it produces a wide range of dairy, ice cream, juice and food products, reaching homes within UAE and Oman, as well as aboard through its extensive distribution network.